And we're off! Here's a look at some of the most notable beauty looks from the shows that kicked off New York Fashion Week.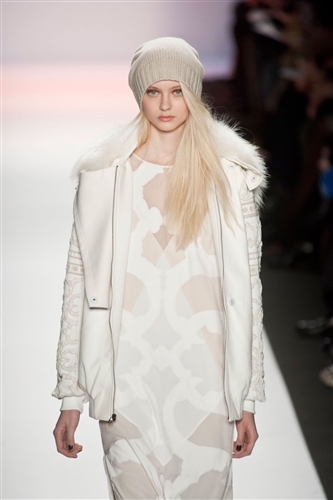 Tia Cibani: She's back! After leaving Ports 1961 Cibani has launched her own label with great sucess. To complement her stellar collection NARS created a gorgeous 1920s hair look with a nod to Art Deco, which looked fantastic juxtaposed with the models' bold purple lip (the inspiration was from Man Ray portraiture).
BCBG: This is how you look cool rocking a beanie. The effortless feel of the hair and makeup worked well to complement the grungy meets luxe-sportswear collection. Focus was kept on the eyes with a smoky look and colors were all in the brown and neutral family.
Red Valentino: While Heidi braids and baby doll red lips aren't a go for every day (or any day?), wear, they served as a great complement to the "Hansel and Gretel"-inspired collection.
Juicy Couture: Juicy may be taking their ready-to-wear in an increasingly grown-up and less sporty direction, but their beauty look remains carefree and youthful. It hard to ever go wrong with clean skin, eye-focused makeup, and lightly tousled hair.
Images: Style.com