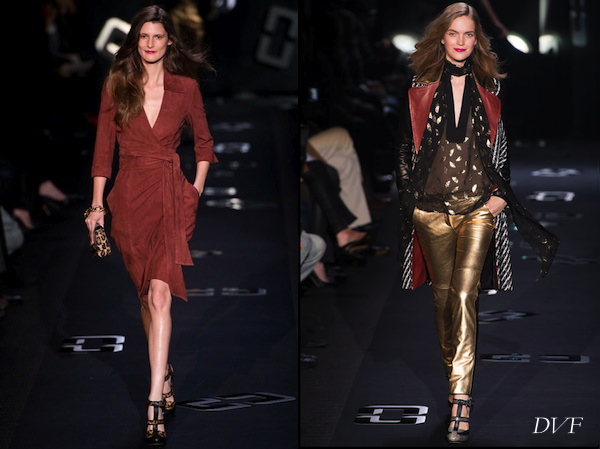 So far, we've seen a lot of brights like hot pink, relaxed silhouettes, and great blouse-like tops. Here's the second roundup of the season:
At DVF, my favorite look was the suede wrap dress. The style is a staple in any DVF collection, but with her Glam Rock show, Diane gave us the exact variation of it I had hoped for. Also fitting into the show's theme were gold pants and jacquard blouses – the metallic chiffon shirt in particular is something that I'll be picking up. Lacking were the great prints we have come to expect, though. The black and white chain motif was the signature print of the collection, and this time around it felt contrived, instead of seamlessly integrated in like it has been in the past.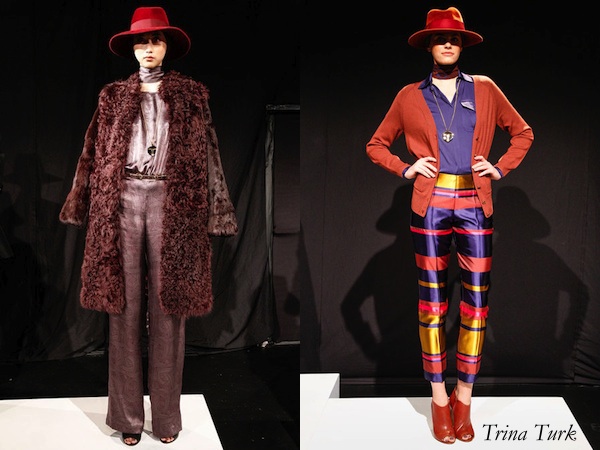 I absolutely loved that hats were on every look at Trina Turk's show. I adore a good topper, and there were fedoras here in every shade from cherry red to plum! The jumpsuits, column dresses, and long coats were the best looks, but the wineberry-colored curly lamb and rabbit fur coat was my personal favorite. Styled over a charmeuse jumpsuit (made to look like separates with a thin belt), this was over-the-top sharp gangster-chic.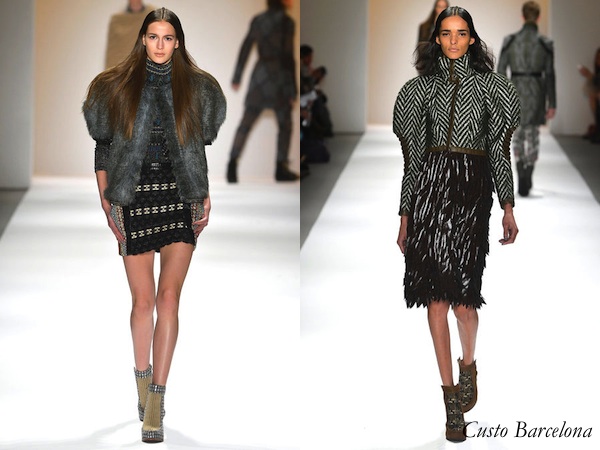 The Custo Barcelona collection was named Beauty and the Beast, with the beast referring to the big warm fur coats, not the men in the show, who were far from beastly. The furs were definitely my favorites, not only because they were fur (sometimes that's enough), but also because they would be wearable any day for any occasion. Extravagant coats are great for special events, but we all crave glamour on the day-to-day, so this has whetted my appetite for more. Otherwise, while I'm not the typical Custo Barcelona customer, I thought that the voluminous silhouettes with all their patterns (he is the king of patterns, after all) were a bit too daunting. Even the finest mix masters can get lost in the jumble.