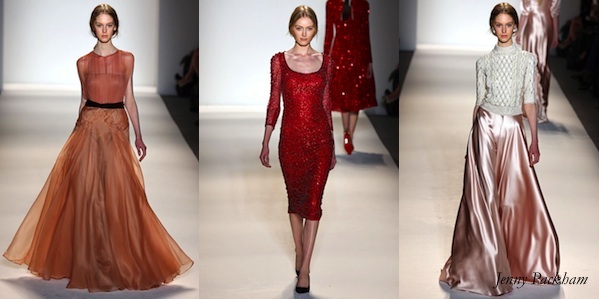 Jenny Packham describes her Fall 2013 collection as splendid and sophisticated, and those are truly the most perfectly tailored words to describe this show. It was called La Salonniere after the salons in 17th-century Paris, where intellectual women talked art and culture (naturally fashion must have found its way into the convo). The pieces ranged from rich red beaded dresses to pale pink flowing skirts topped with sweaters. This is glamour in the most classic way. Sometimes a little old-fashioned beauty is all you need to breath new life into design.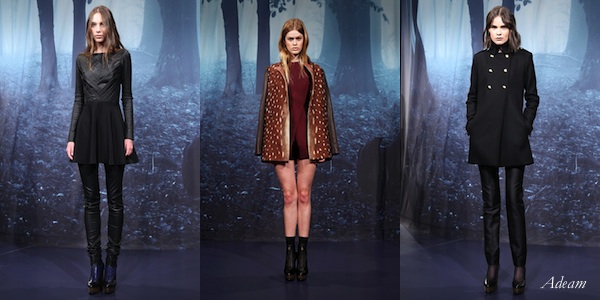 This was Adeam's first season at NYFW, and designer Hanako Maeda started out strong. The forest lent inspiration (and a charming misty backdrop) with deep green hues, the texture of rugged bark, and the changing color of the leaves. They even went all natural in their beauty with fuss-free makeup and barely there waves. Since nothing in nature is symmetrical, the hemlines were fantastic, mixing paneling with varied materials. The standout piece was of course the deer print pea coat – the leather sleeves and minimalist details are ridiculous. Have to have!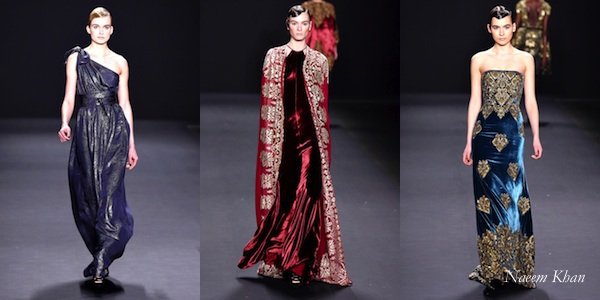 Naeem Khan's collection was inspired by the opulence and grandeur of the Byzantine Empire, so there was a pleasantly overwhelming sense of old world heritage. Indian fabrics (all in rich, saturated tones) were broken up by intricate beading, crystals, sequins – embellishments of almost every kind! Some were pretty racy (even for his red carpet clients), but even so, this was excess in the best way possible. Beyond the gowns, there were floor-length embroidered coats made of lace and silk jacquard that all looked like they came straight from a Queen's closet.