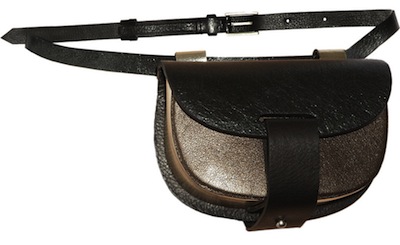 The mini bag is becoming more irresistible every day, but I'll take mine with some real functionality, please. Baby bags are cute, but NewbarK achieved casual perfection – by making it a belt. It's difficult to find a belt bag that works in reality, and this one is a rarity.
Let me count the ways I love it. This little treasure is so petite, it won't take over your waistline. Can't have that happen! (There's nothing less attractive than a bulky belt bag that gives you a muffin top.) It's adjustable, so you can let it hang low and loose or cinched and tight, and for petite girls, you can punch more holes in as you please. Then there's the styling: I love this tri-toned metallic (neutral yet alluring), and a tab closure is the best choice for this. Hardware on a belt bag is less streamlined and worse yet, confusing to the sense because you think it should just be a belt. On Net-a-Porter
for $960.
Pair with: A funky ankle boot that's practical, just like your coin pouch. Acne nails it with their new Donna boot. Pebbled leather, a chunky heel, and pointy toe look cutting-edge together. At Barneys New York for $570.