Win my Jason Wu "Grand Tourista" Tote bag plus a 5 night stay at a St. Regis property! Details here. I was recently invited to experience the St. Regis Shenzhen, which opened just one short year ago. How could I refuse a stay at the new Kingkey 100 property, a.k.a. the tallest building in Southern China?! I've stayed at many St. Regis hotels before– NYC, Aspen, and Beijing – it's hands down one of my favorite hotel brands. They have such a storied heritage beginning with the flagship St. Regis in NYC. Built by American businessman John Jacob Astor as a companion to his Waldorf-Astoria, it was the tallest hotel in the city when it first opened in 1904 (St. Regis loves a good view). The landmark was home to Salvador Dali every winter in the '60s and '70s, and one of the hotel's bartenders was even responsible for the creation of the Bloody Mary (they call it the "Red Snapper").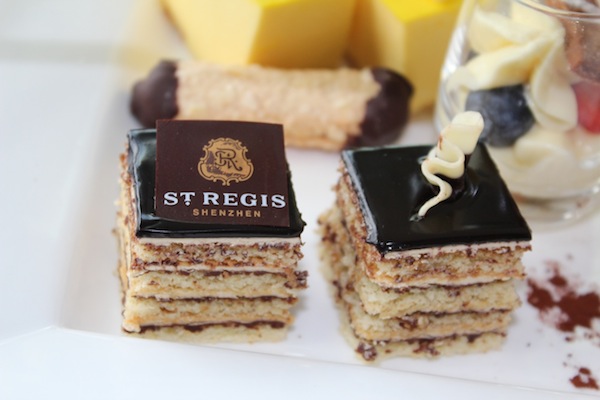 Flash forward to today, when the company is continuing to expand its well-loved luxury brand abroad. Upon arrival in the Shenzhen hotel, I was warmly greeted by Mr. Nam, the G.M. of the property, and the lovely P.R. Director Samantha Xiong. They treated me like Lady Astor herself, kindly upgrading me to the Caroline Astor suite. Talk about good hospitality! The spacious 1100 sq. ft., 2-bathroom/1-bedroom accommodation came with sweeping views of the entire city thanks to its perch on the 87th floor. I could see 180 degrees with floor to ceiling windows, and while I'm not easily impressed (sorry, I'm a snob when it comes to hotels and traveling), this was truly breathtaking. The shower was the size of an American walk-in closet, and the bathroom itself rivaled that of most master baths in American mansions. Best of all, there was a tub that overlooked the glittering city lights, a view that I enjoyed with nightly rose petal bath rituals prepared by my private butler Grace (yes you read correctly, I had a personal butler 24/7– how ya like me now?!) The pampering continued with a hot stone massage at the Iridium Spa, where the lobby was more decadent than that of most hotel foyers. It is all about the details at the St. Regis Shenzhen (just check out the many crystal chandeliers scattered throughout the hotel) – the shower in the spa room even had twinkling lights on the ceiling. You know, in case you wanted to break into song while showering. I was so relaxed that I actually put my iPhone away for a full hour and a half! The food at the St. Regis was equally decadent. I had breakfast each morning at Social's made to order Congee bar (crab, shrimp, sea bass, salmon, beef, chicken, veggies, etc.), high tea in the afternoon, and candle-lit champagne in the evening. I'm not ashamed to say that I barely left the property. Between the lavish spa treatments and course after course at the amazing Italian restaurant Elba (my 6-course meals were prepared by Arno, a true Roman chef who claims that the Florentines and Milanese have nothing on the Romans), there was just no reason to leave. Everything you need is at the tip of your fingers – literally. The St. Regis Shenzhen is the most high tech hotel I've ever stayed at. I pride myself on my tech skills, but it took me a day or two to adjust to the entire room being controlled by an iPad (I felt like a Jetson). Even the phones were mere speakers on the walls. But this is what I loved about the experience – it combines the old world glamour of the St. Regis brand with modern technology and amenities. Staying at this hotel is truly an event unto itself. It hearkens back to a time when people traveled merely for the sake of traveling. This trip is the best hotel experience I've had in a long time. But enough of me telling you – let me show you! Make sure to scroll through all of the photos I took. You'll love them – it's not at all like suffering through your Aunt Martha's yearly cruise photos from Mexico. Promise.
Don't forget to enter to win my chic Jason Wu Grand Tourista travel bag and a 5-day stay at a St. Regis property:
1. Follow St. Regis on Instagram @StRegisHotels 2. Upload a photo on Instagram with items you'd put in your Grand Tourista bag with hashtag #GrandTourista Contest ends Feb. 7th at 11:59pm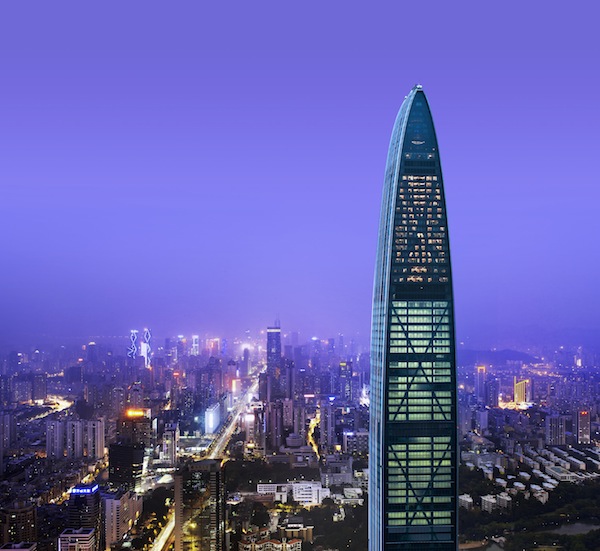 This is the gorgeous Kingkey 100 building. My suite was somewhere on the top. St. Regis occupies the 73rd-99th floors. I didn't take this photo, but I could have had they provided me with a helicopter!
This post is also available in: Chinese (Simplified) Chinese (Traditional)