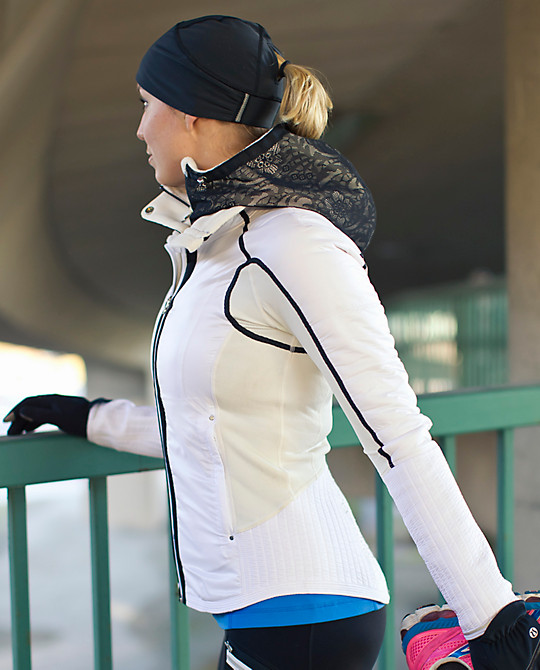 Nike is one of my favorite brands. I've been in awe of their inspirational marketing campaigns for as long as I can remember and when it comes to functional sneaker design they just can't be beat. Better yet I recently learned that they organize a ton of free events including weekly run clubs and training clubs. I went to a female-only training one at the Barclay's Center a few weeks ago and it was amazing! Hundreds of women working out together all in the spirit of being inspired. Nike gave us all free workout gear to wear and we got to borrow brand new, never worn shoes. They also supplied us with free food and drinks and the whole event capped off with fireworks inside Barclays Center! Needless to say I left the event wholly inspired to join their weekly run clubs so I can partake in more of their awesome events. While I run nearly every day at Barry's Bootcamp, I'm not an outdoor runner so I immediately got to work to research what the essentials were that I needed to make my future runs optimal and safe.
I spoke with Claire Shearman Joyce, New Balance's running apparel product manager, and she told me that when running in the cold you have to invest in good moisture wicking products that have wind blocking technology. She added that "fabrics have come a long way and most are lightweight and feel soft against the skin while drying quickly which is important to prevent chafing. At New Balance for this winter, we have our NB Heat technology that is not only moisture wicking, lightweight and breathable but also heats the surface temperature of your skin by approximately 2 degrees. It helps protect you from the cold while running or working out. The Windblocker Jacket, Half Zip, and Tight are anti-microbial to help prevent unpleasant odors as well as windproof and water resistant to help you face tough cold weather conditions." [see all here]
Taking her advice – and speaking with pros at Lululemon (who have their own run club!), I've been running in this jacket and it's amazing! It's by far the most stylish jacket I've seen – I get compliments on it when I wear it even when I'm not running – and in addition to having all of the must-haves that Joyce outlined, it's designed to be reflective so it's safe if you're running in the dark. Its also got a ton of pockets. I'm also completely obsessed with these gloves…you can type and swipe and do everything on your phone while wearing them!! A lifesaver for a blogger….
As for sneakers, I've been wearing the Lunarglides from Nike and New Balance's 860v3. I did a run test with both of them at a local running store and while I like Nike's design better, the test showed my feet pronated less with New Balances'. Both shoes provide great cushioning and the laces of the NB are textured so they don't easily unlace while you're working out.
For more on Nike's run club click here and for more on Lululemon's run club click here.