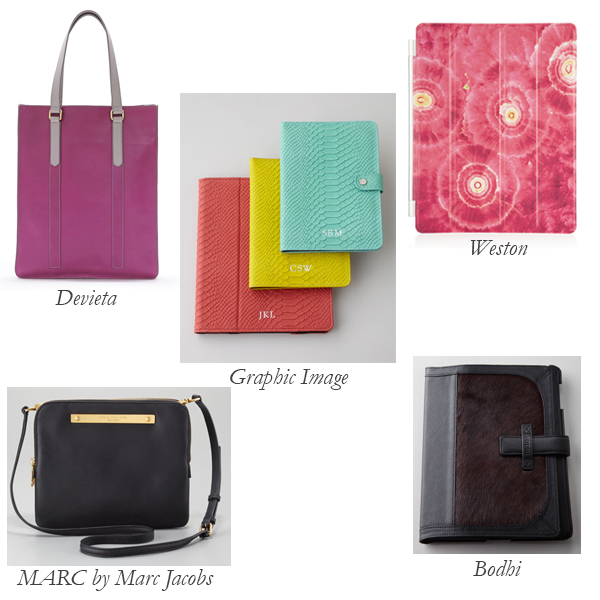 It's hard to look cute carrying around bulky (or even light as air) tech equipment, but these cases/carriers/protectors are ready to leave geek chic behind. The bags are so classic looking that even an Apple genius wouldn't know you're stowing a tablet inside (and they know everything). Whether it's your iPad Mini or chunky laptop that needs a lift, there's something for the tech goddess and Bag Snob in us all.
Devieta Firenze Tote: Most laptop totes are giant cumbersome creatures, but this Devieta is slim, trim, and chock-full of organizational capability like zipped iPhone pockets. I wanted to make sure that my 13″ MacBook could fit inside, and sure enough it slipped right into the padded side pouch while still leaving enough room for other slim essentials. The strap is just long enough to go over your shoulder. Normally I would complain that it isn't long enough, but this height is actually perfect – when it becomes too heavy, you can hold the bottom of the bag with your hand to take some of the weight off (I'm a total baby when it comes to carrying heavy things on my shoulder). On Roztayger for $748.
Weston Rhodochrosite Printed Magnetic iPad Cover: Magnetic covers are the easiest and most functional to use. Not one is as beautiful or striking as Professor Weston's digital design, though. On NET-A-PORTER for $100.
Graphic Image Python iPad Case: Finally, a good case for my iPad Mini! Since it's the Year of the Snake, everything has to be python, and for a tablet case, it's fine to go faux (I don't believe in spending more on the case than on the iPad itself!). I got the coral and had it monogrammed, but it was a serious toss-up between that and the mint. At Neiman Marcus from $115 to $135.
Bodhi Hairhide-Trimmed iPad Easel Case: Calf hair and on sale – need I say more? As for function, well that's covered, too. The easel design is a must for those who use their device for Netflix and Hulu. At Neiman Marcus for $65 (from $130).
MARC by Marc Jacobs Goodbye Columbus Tablet Bag: Some of us never leave home without our tablets, but that doesn't mean we have to run around with our biggest totes. This cute crossbody has the signature MARC look, sleek bar hardware, and two convenient compartments – one designed for your tablet and the other for your wallet and essentials. At Neiman Marcus for $328.