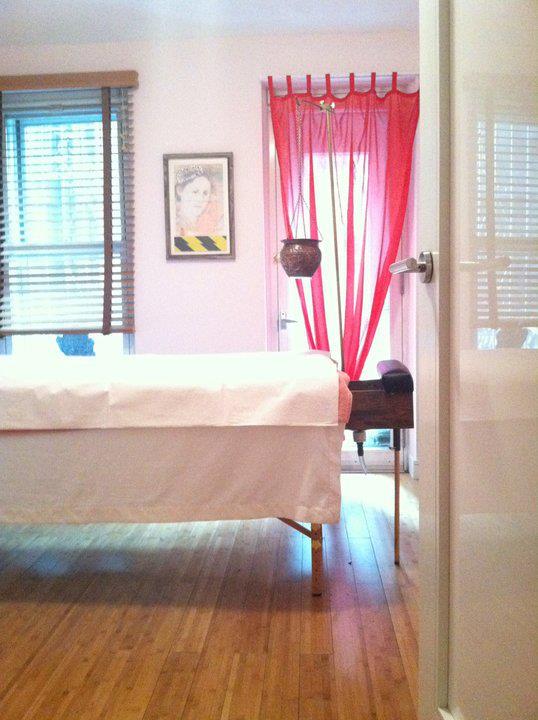 A few days ago I went to Take Care NYC, a small spa that specializes in yoga and a variety of face and body treatments, including microcurrent. Microcurrent is getting an increasing amount of buzz thanks to high profile doctors like Dr. Perricone endorsing it. Basically it's a facial/body treatment that applies a small electric current via two pen-like electrodes onto your face and via patches onto your body. According to Perricone the idea is to "stretch sagging muscles that are over contracted, such as frown lines between the eyes. The current itself is very mild and would take 60 machines to power a 60 watt light bulb." He adds that the treatment increases adenosine triphosphate, a molecule used for energy in the muscle. On the body it does everything from fight cellulite to tighten the skin. Like most treatments a series is recommended for optimal results (depending on the condition weekly treatments for eight to 10 weeks and then touch-ups as needed), but my thigh area felt noticeably tighter after a single treatment. I was too scared to try it on my face!
The treatment is very powerful (the machine used to apply it costs a whopping $30,000), and is considered by many doctors to be a more natural-looking alternative to Botox so if you're thinking about reaching for the needle, I'd highly recommend this treatment. Not only will your skin feel and look smoother, the treatment is super relaxing…I actually fell asleep! And, if you're in NYC, check it out at Take Care NYC. The spa is run by an incredible woman named Sadie Adams; she's soft spoken and will immediately put you at ease (truth be told I would have done the facial, but I'm so pale and I had a date that night…I just didn't want to risk it even though I was assured I would have no redness). The spa is like a homey oasis in the middle of NYC (I kind of felt like I was in a bed and breakfast somewhere upstate).

Read more about electric facials here.