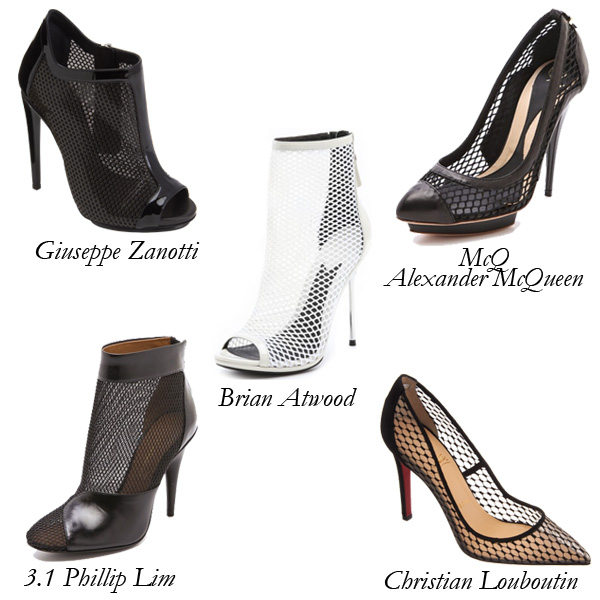 After Beyonce's Super Bowl halftime show, all the single ladies (and the taken ones, too) ran out and bought fishnet stockings. I call it the Sasha Fierce effect. This trend goes way beyond just the tights, though. Sure, mesh shoes are nothing new, but these five are clearly meant to emulate the allure of seductive fishnet. Conjure up your fantasies – these will do the rest of the work.
Christian Louboutin Pigaresille: I've been eyeing these for weeks! A lot of times, fishnet looks trashy, but Louboutin (and the rest of these top designers) crafted pumps for a true lady. At Barneys New York for $795.
Giuseppe Zanotti Lasercut Bootie: This bootie is a cage I wouldn't mind slipping into. Giuseppe used honeycomb lasercut leather and placed mesh underneath to double the effect. At Barneys New York for $1,095.
McQ Alexander McQueen Mesh Cap Toe Pumps: With no fabric underlay, these McQs are probably the most true to fishnet of the bunch (and the most deliciously provocative!). On Shopbop for $450.
3.1 Phillip Lim Shirley Booties: Another shoe with double layers, but this time they're mesh on top of mesh. Between that and the one-sided, curved leather panels, these shoes are full of surprises. On Shopbop for $695.
B Brian Atwood Michelet Mesh Booties: No one can pull off white fishnet tights, but white fishnet shoes? Somehow they just work (and if anyone disagrees, you can give them a little tap with your metal heels!). On Shopbop for $495.