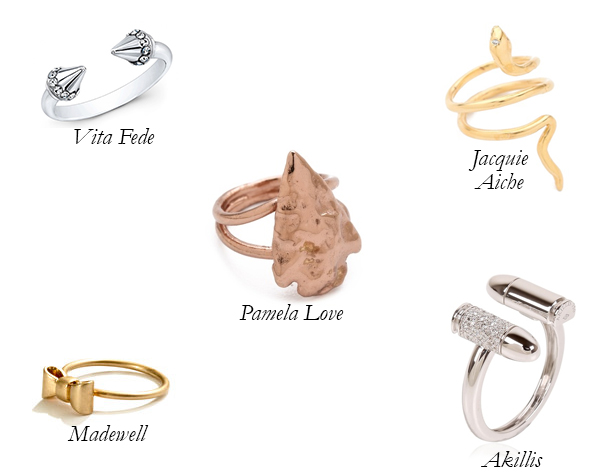 Being petite myself, I love anything Lilliputian-sized. My latest obsession is stacking miniature rings. It used to be in poor taste to wear a ring on each finger, but at these sizes, you can wear dozens on one hand alone. The delicate styles are fun ways to trick out your hands without looking gaudy. Give people something interesting to look at, with each mini more precious than the last. As they say, the best things come in small packages!
Vita Fede Ultra Mini Titan Crystal Ring: Vita Fede's mini version of the iconic Titan ring is so bendable you can adjust it to fit your finger perfectly. The crystal style comes plated in silver, rose gold, and yellow gold, so I say get one of each! On Vita Fede for $150.
Jacquie Aiche Mini Snake Ring: Snake jewels are often so bold that you can't wear much else with them, but by downsizing this ring, Jacquie Aiche allows the serpentine design to share the stage with other equally hypnotizing looks. On Shopbop for $165.
Madewell Mini Bow Ring: Everything is cuter with bows, so wrap your finger in this brass ribbon to show off your sweet side (especially if you're already rocking a poisonous snake!). At Madewell for $15.
Akillis Mini Bang Bang Toi Et Moi Ring: What better way to soften the edgy look of bullets than with diamonds? On Luisa via Roma for $4,228.
Pamela Love Mini Arrowhead Ring: The hammered style of this arrowhead makes it look like a real relic, dug up from the ground and plated in rose gold. On Shopbop for $159.