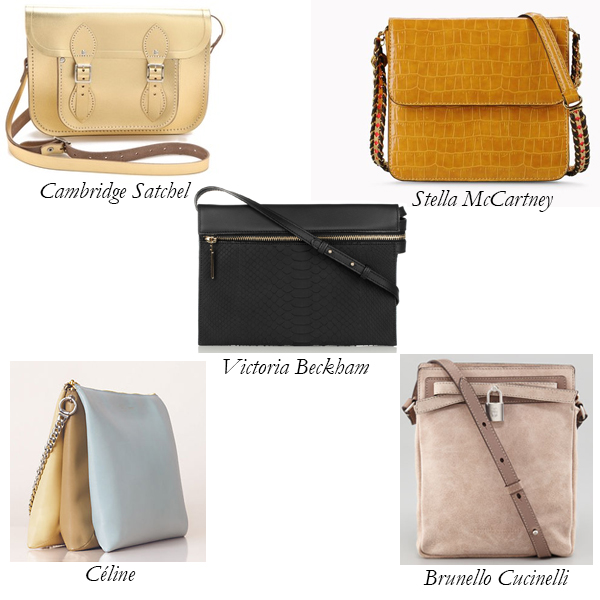 It's great to see the sights, but it's even better when your bag is a sight to behold, as well. Ultimately though, when you're exploring a new place, you need convenience above all else. Fortunately with these styles, you don't have to sacrifice fashion or function. Their zippers and pouches are key for keeping your valuables protected, while still easy to find. Open bags are a strict no-no on vacation, especially in packed, touristy cities. Odds are if you're sightseeing, you can already be identified a tourist, so there's no need to make it any easier for crooks to steal from you!
Céline Soft Trio Zipped Bag in Lambskin Glacier: This is similar to the multi-pouch Frugal Snob pick I got from Annabel Ingall, but always splurge when you can! At Céline for $2,100.
Cambridge Metallic Satchel: If you want to relive your study abroad days in college, no brand is better than Cambridge for on-campus chic. The buckle is annoying, but it will keep pickpockets away. On Shopbop for $155.
Victoria Beckham Leather and Python Shoulder Bag: Simple, sleek, and a steal for a VB python bag! This is just big enough for your camera, wallet, phone, and those conspicuous travel brochures. On NET-A-PORTER for $750.
Stella McCartney Faux Croc Crossbody Bag: Anne Hathaway has been seen out with her yellow Stella crossbody more times than I can count on one hand, and when a celeb does that, you know it must be a truly convenient and lovable piece. At Nordstrom for $1,330.
Brunello Cucinelli Pearled Suede Crossbody Bag: Another thing to aim for with travel bags is a neutral tone, so you can mix and match them with everything in your suitcase. At Neiman Marcus for $1,325.