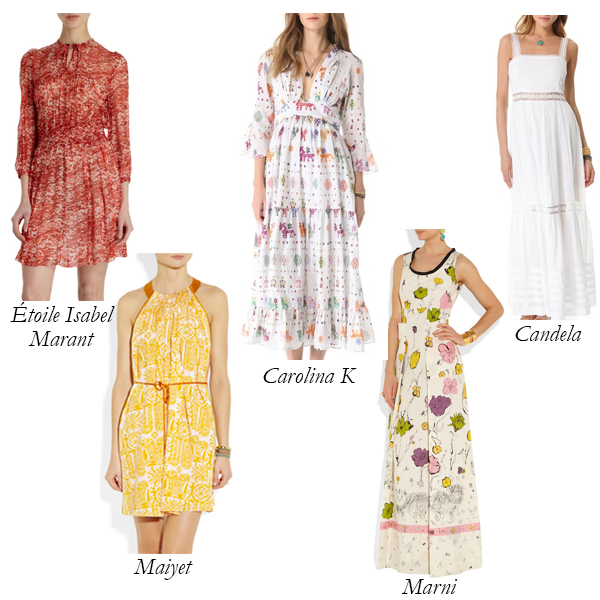 It's finally time to put those tights away and unveil your gams for yet another season of pool-hopping and rooftop parties. If it's still a little cool where you are, a maxi will offer some shelter from the breeze while still getting in on the dress code. This is the time to show off your fun side with cute prints, pleats, and even plunging necklines. Here are some of the pieces I'll be stocking up on for those sunny days ahead:
Étoile Isabel Marant Long Sleeve Abstract Printed Dress: When a long-sleeved dress has a high skirt hem, you manage to look both effortless and dressy at the same time, which is perfect for going from day to night. At Barneys New York for $480.
Maiyet Hand-Printed Pleated Silk Dress: Rajasthani artisans printed this traditional Indian design by hand, so there's truly a personal touch involved. The color is so citrusy, you can smell the fresh lemons just looking at it. On NET-A-PORTER for $1,050.
Carolina K Vintage Maxi Dress: Carolina is a gorgeous Argentian designer and the sister of one of my friends. This vibrant print was inspired by one of her many travels. On Shopbop for $462.
Marni Scratchy Cat Printed Cotton Maxi Dress: I always have a selection of maxi dresses ready for the summer, and this playful Marni will soon be joining the roster! On NET-A-PORTER for $1,640.
Candela Ami Dress: For vacations to the cape, you need a flowy, white prairie dress. Wear this Candela all day long, from sunrise on the beach through to your evening dinner. On Shopbop for $285.