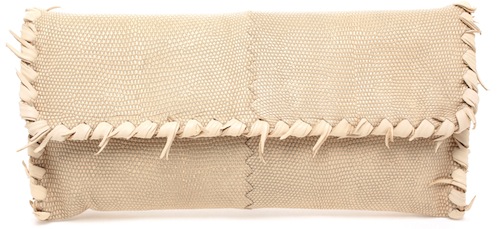 Leave it to Bottega Veneta to create a clutch that requires a double take. Or three. Plain old straw simply won't do for the elegant Mr. Maier. Instead, he takes lush leather and fashions it to resemble the laidback material as a haphazard trim. He doesn't stop there: we get a further upgrade, courtesy of a karung lizard-skin body, jaggedly stitched down the middle for that perfectly imperfect final detail.
It's design like this that tugs at your heartstrings: the highest of luxury styled with a rugged, hands-on touch; undone corners that are so consciously executed, you can't help but adore them; and exotic skins that don't come a dime a dozen. This tactile foldover clutch also comes in black, but for summer this lightened-up nude makes for the bag you need and want. At Browns Fashion for $3,373.
Pair with: Flats don't get airier than Ancient Greek Sandals' Chrysso, a beachy mix of golden beads and black leather. On Net-a-Porter
for $270.
This post is also available in: Chinese (Simplified) Chinese (Traditional)