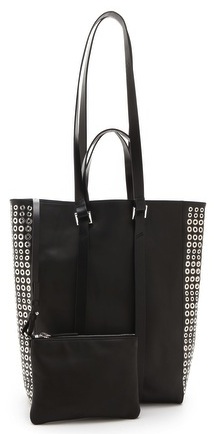 As a general rule, I try to stay away from black bags during warm weather, but there's always room for an exception. This CoSTUME NATIONAL tote is too enticing. This is the kind of shopper every snob needs and wants: details that please and function, to boot (plus, a shade that won't show dirt no matter where you drag it).
The grommet-coated gussets pack on that big statement – one that says you can take some toughness, even if you're teetering around town in five-inche wedges – but it doesn't overrule a generally sleek, chic bag. Smooth leather and unadorned straps elevate the level of sophistication (too many details and this many grommets can look like they crawled right out of Hot Topic). Speaking of straps, a duo of a top-handle and lengthy shoulder straps adds interest, as well as convenience; a strap casually dangling over a north-south tote breaks up the elongated shape. And finally, a bonus treat: comes with a handy wristlet that can come out and play on its own. On Shopbop for $1,780.
Pair with: Keep the rest of your metal hardware nice and light, please. Shaun Leane's cool tusk bangle of bright coral resin is the power piece your wrist needs. On Farfetch for $345.