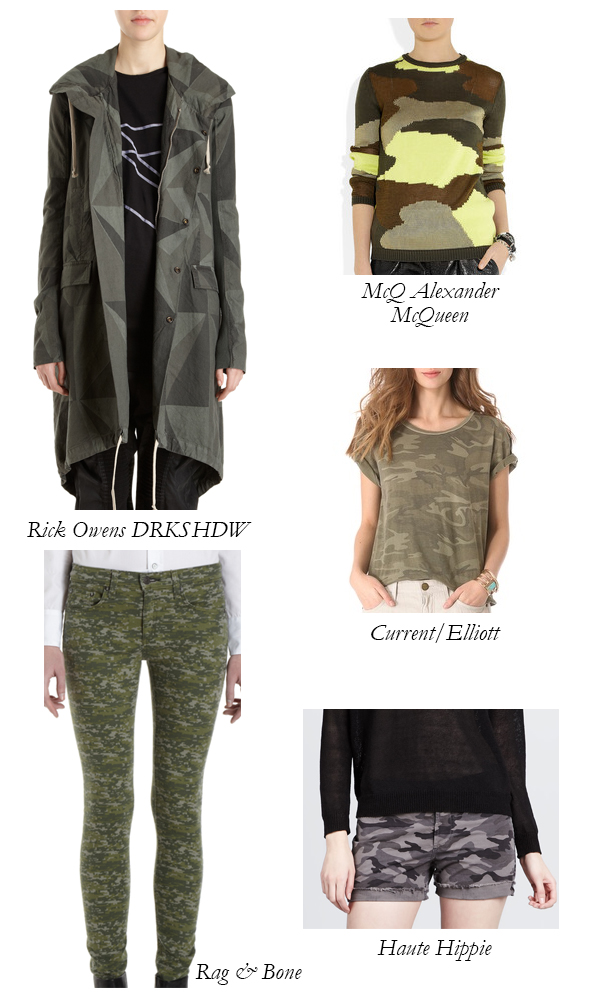 Camo hasn't always gotten the best rap, but it's back in vogue and more daring than ever. Lately, Valentino's bejeweled camo bags and shoes have been driving the trend, but it goes so very much farther than that – neon-accented sweaters, wedge sneakers (definitely not army-approved)…everything is in camo! The secret to wearing the print is to do it in measured doses. Pile on too much and friends will start asking when you head off to boot camp.
Rick Owens Drkshdw Geometric Camo Coat: Rick Owens could have just designed a camo coat and left it at that, but fortunately, a creative mind rarely takes the easy path. Geometric camo print doesn't exactly blend in and that's just how we like it! Pre-order at Barneys New York $1,750.
Rag & Bone Camo Skinny Jeans: My favorite pair of camo jeans is from Zara, but they're not being sold anymore. Rag & Bone to the rescue! At Barneys New York for $188.
Haute Hippie Cotton Camo Shorts: If green isn't your color, try these gray camo shorts. The effect is the same, plus these will go with more of your wardrobe. At Neiman Marcus for $165.
Current/Elliot Freshman Tee: There's something about worn-looking camo that's a little more badass than the newer stuff. If you aren't in the army, maybe you can at least look army strong. On Shopbop for $118.
McQ Alexander McQueen Camouflage Cotton-Blend Sweater: I brought this with me to Paris and thank god! Not only is the city dark and chilly, it's a war zone. On NET-A-PORTER for $390.