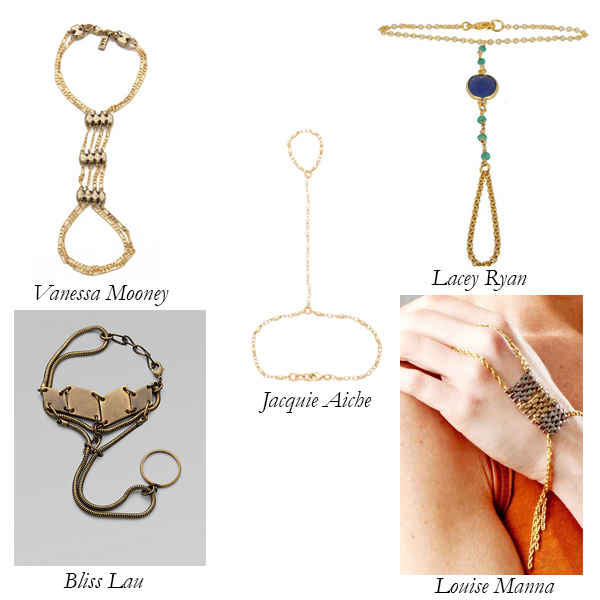 There's something about spring that brings out the boho in everyone. It's a fresh new start, the sun is shining, and you just feel free. Now is the best time of year to try out a new style, and the one I'm eyeing is the finger bracelet. It seems like they're everywhere and mostly at Frugal Snob prices! And really, why buy a bracelet and a ring when you can get them all in one? Here are my favorite chain-linked pieces to pick from:
Vanessa Mooney A Moment of Chaos Bracelet: This is the bracelet that first sparked my interest. With the matching tonal beads, you get the all gold look of a Grecian goddess. On Shopbop for $75.
Bliss Lau Calder Antiqued Chain Bracelet: This antique-look bracelet seems like it was once part of a car or other mechanical contraption. The design is creative, but I wish the ring didn't look like it came off of an old keychain. At Saks Fifth Avenue for $248.
Lacey Ryan Blue & Green Chalcedony Finger Bracelet: The blue quartz and green jewels on this bracelet cascade down your hand like a refreshing gemstone fall. On Pink Mascara for $70.
Jacquie Aiche White Pearl Vintage Chain Finger Bracelet: The delicate freshwater pearls remind me of a mini rosary or prayer chain – elegant and understated. On Shopbop for $121.
Louise Manna Lamina Glove-Bracelet: I don't know if I would go so far as to call this a "glove-bracelet," but it's definitely one of the bigger pieces of the lot. And since the finger bracelet is a statement style, go big or go home! On The Trend Boutique for $139.