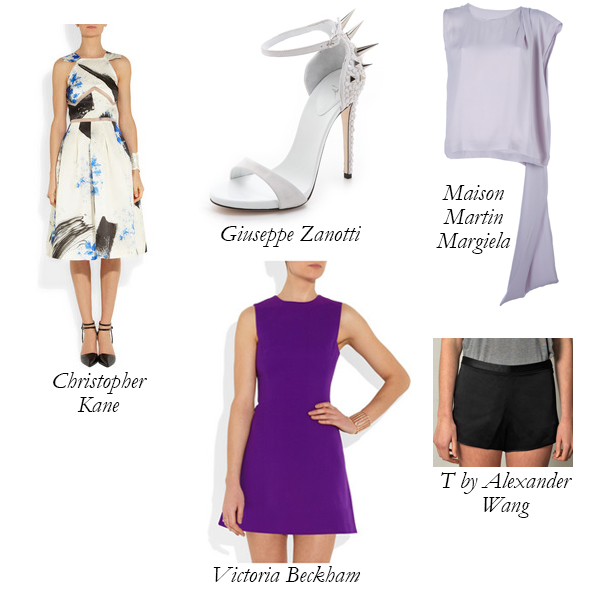 Some aliens like E.T. are adorable, huggable creatures, but most we've dreamt up are fierce, unstoppable entities and these white hot Giuseppe Zanotti sandals (On Shopbop for $1,250) definitely fall into the latter category. Decked out in pyramid studs, shimmering crystals, and razor-sharp spikes, a Milky Way white alien attack has never looked so dangerous. With heels like these, you need to know how to have fun mixing and matching, so here are my picks for bringing these outer space beauties a little more down to earth:
Evening: While Christopher Kane's silk-organza dress has a floral print and ladylike silhouette, the edgy cutouts and black splotches feel otherworldly, making it a great pairing for our Giuseppes at an evening event. Exclusively on NET-A-PORTER for $3,080.
Cocktail: Cosmic purple plays off of the extraterrestrial vibe, while the crisp silhouette of Victoria Beckham's mini dress ensures that this look will be anything but cheesy. On NET-A-PORTER for $1,995.
Casual: To scale it back a bit, throw on T by Alexander Wang's black shorts (on Matches for $211) and Maison Martin Margiela's asymmetric lilac top (on Farfetch for $556.32). The shorts will show off your legs while the shirt will show off your daring side.