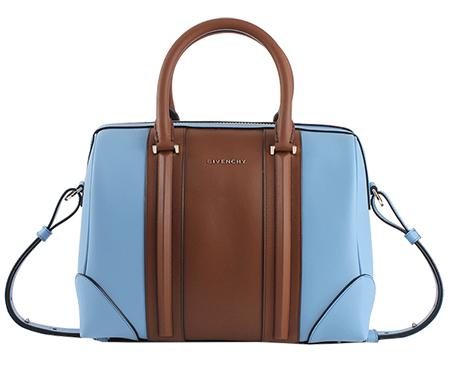 In an unusually soft, almost sweet move, Givenchy has opted for the gentle color palette of sky blue and chestnut brown, a surprisingly fitting pairing for the New Line bag. Switching things up from the brand's more threatening hues has paid off: this combo is so striking and chic.
I adore the easygoing personality of this bag. With hints of inspiration taken from club stripes and bowling styles, the paneling and trim details are exact, causing the juxtaposing shades to pop equally. They have borrowed from a number of classic elements, but this is unmistakably Givenchy (and not because of the itty-bitty logo) – it has that sense of unbothered cool. I'm already envisioning all the options to wear with this: an über-sharp outfit is key. But I would be tempted to carry this everyday. It makes me feel so good just to look at it. On Marissa Collections for $2,810.
Pair with: Dress up Current/Elliott's crisp yet relaxed Prep School shirt, in bright, crinkly white. At Barneys New York for $186.