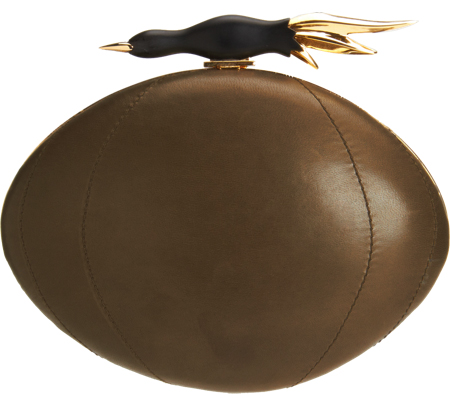 How can you not fall in love? Or at least, in lust. Much of attraction has to do with mystique and mystery, and Maiyet's newest creation has both in spades. I'm not exactly sure of what I'm looking at, but that's precisely why I can't take my eyes off it (and I don't want to!).
Usually, an oval minaudiere in olive leather would look like a rugby ball, but this is more like a functional work of art. Here it is: a covetable creation with what appears to be roadrunner-inspired closure. The football-esque shape fits perfectly in your palms. It's not a perfect sphere but flattened for comfort, so it's not like you would have to balance it. And that blast of flaming metal and shapely rubber at the top: when's the last time you saw a push-lock like this? Clutches like this only go to remind us that there is such a broad line between tchotchkes and chicness – and this is on the extreme end of chic.
At Barneys New York for $1,850.
Pair with: Set off your hands with Saint Laurent's four-set of gold-vermeil rings, for several dashes of braided and ridged texture.
On Net-a-Porter
for $1,180.