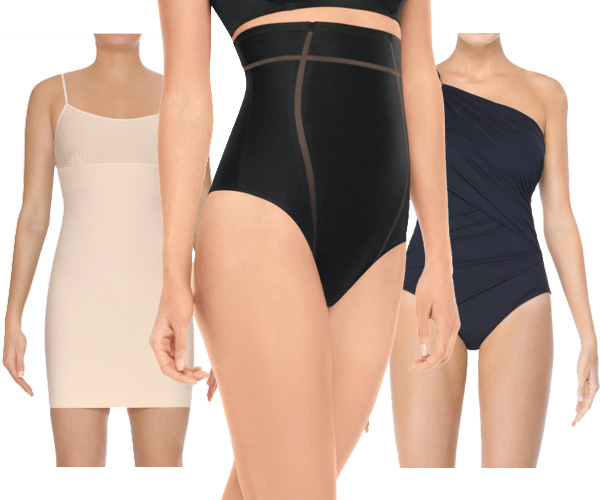 In spite of what many women think, wearing Spanx is nothing to be ashamed of (there are even Spanx for men now). If 100-lb celebs use it for that extra bit of confidence on the red carpet, the rest of us should feel just as justified. You hear more and more women coming out about wearing the brand, and it's because the look of the pieces themselves have never been hotter! When lingerie is as sexy (and feels as shockingly comfortable) as Sara Blakely's, there's no reason to keep a secret about it. So dive into these must-have Spanx – I promise they'll never give you away. Available on Spanx.
Spoil Me Cotton Adjustable Strap Slip ($88): I wear this slip with every dress. It doesn't cut you off anywhere, giving you a slim and bulge-free look. Best of all, the toning technology stops short in all the right places, so the bra top will make your cleavage look voluptuous, rather than flattened out.
Haute Contour Vintage Rise Thong ($108): If those tummy-tucking panties leave you with unwanted panty lines, this thong from the Haute Contour collection (also know as the "Dessert of Shapewear") is the way to go. Between the sexier than usual style, the non-slip top, and the high tech compression, it's clear how far the science of lingerie has come.
Whittle Waistline Draped One Shoulder One Piece ($188): What is everyone's number one concern about wearing Spanx? That people will be able to tell. But these look nothing like Spanx! It's just the kind of deceptive design we've been dreaming of. The cute suit will keep you looking fab while the flattering ruching and draping will create that slim waistline that you were too busy to tone up at the gym. The asymmetrical one shoulder style also gives the optical illusion of a more slender silhouette. What will they think of next??