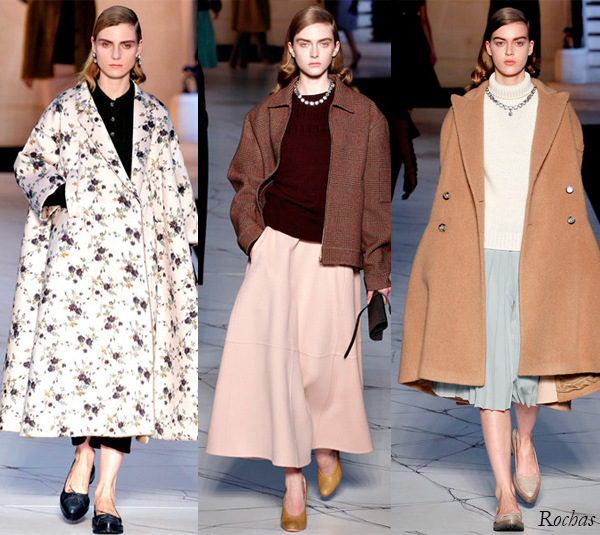 I arrived in Paris on Wednesday to gloom and chill. But the shivers quickly evaporated, as the first show I attended was Rochas. Marco Zanini produced a deliciously refined collection, quietly brimming with billowing opera coats and expertly knit sweaters. It is the New Look gone glamorously bizarre: full, swinging skirts, ideal for putting some strut in a lady's step (even if she is wearing prim Mary Janes); slinky leather gloves reaching all the way to the bicep; and louche yet graceful pajama sets. The Rochas woman exudes a strong '50s-retro softness. If that sounds like an oxy moron, then it's fitting: she's also an intriguing contradiction of sorts.
Next, it was on to Mugler. With one out-of-this-world silhouette after another, the collection is a nod to the early days of aviation, when traveling was a thing of glamour (not the sloppy display of flip-flops and sweatpants we see today). I'm a huge fan of the tailored, architectural construction of vintage Mugler, and now I'm becoming a fan of Nicola and womenswear designer Sébastien Peigné's' reinterpretation of the Mugler woman.
"We wanted to explore the idea of travel through time, in style." Formichetti explained. Indeed, the Mugler creature transcends time. His first-class traveler is decked in feminized construction: cashmere skirt-suits, a rose-colored mink blouse with porthole cutouts of (these mink blouses are jaw-droppingly gorgeous!), and liquidy satin that doesn't so much pour around the body as it fixes itself with determination. The leather headscarves and head helmets may seem costume-y, but worn with plush sweaters and leather leggings, they make perfect toppers. And don't forget cocktail hour! Strapless crepe shifts and biomorphic earrings by Alexis Bittar for Mugler (the pair's very first runway collaboration) round out the invigorating array.
Carven followed early the next morning. Rubberized fabrics have made a strong showing on both sides of the pond, and Carven took the texture to new heights. Luckily, their layers – topped with oversized, engulfing collared coats (some belted, some left casually undone) – and nubby suits somehow manage to ooze movement. The palette also comes into play in a major way. It's time to re-think pink! Baby-soft shades for fall? I'm all about them when they are this sophisticated, as only the French can pull off.