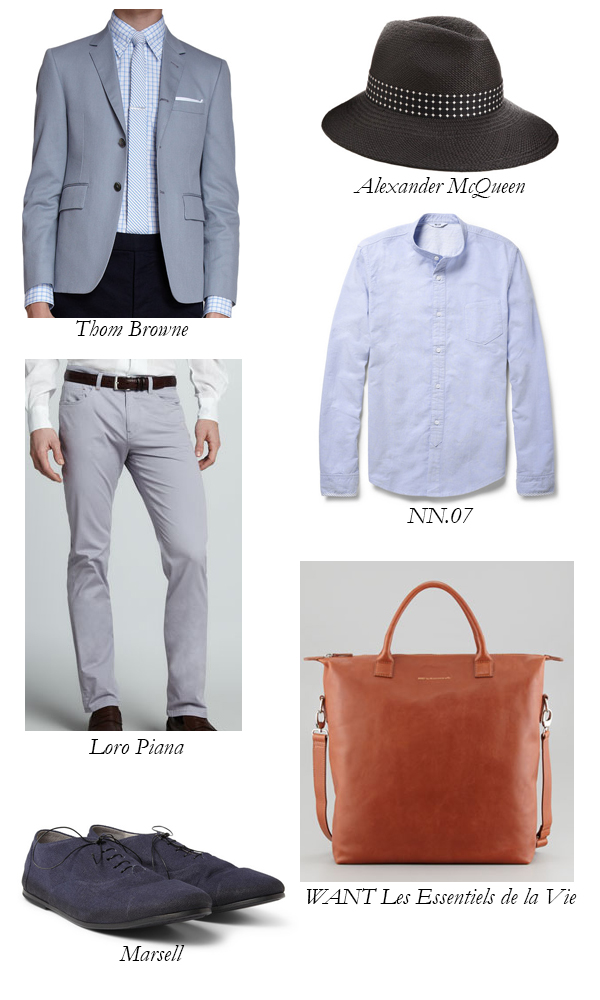 Spring is officially here! Okay, so while yesterday was the true first day of spring, today is the traditional start of my favorite verdant season. One of the best parts of the season is that it enables you to reinvigorate your life by cleaning out what you don't need, and seeding the aspects of your life you want to sprout. Of course, a good "spring cleaning" comes to mind, and why not start with your wardrobe…edit out the dark, and archive it until the chill returns later in the year (unless said dark is a strong blazer, as you can definitely keep that!). 
As temperatures lead to mercury rising, I'm expecting that the hem of shorts and pants will follow. Shorts are getting much shorter, so make sure you do those leg workouts at the gym. For pants, continue to see the leg being rolled up or a shorter hem in general. Less is indeed more when it comes to length. Loro Piana's lavender pants (at Bergdorf Goodman for $425) are a luxe example of what you should expect to see on fellow men.
For the torso, lighter blazers will be more common, owing to their more relaxed expression. Thom Browne's jacket (at Barneys New York for $1,280) is the perfect description of what your average jacket will look like this seen. For a basic shirt, you can count on seeing a lot more blue than usual. I know, blue in general is far from groundbreaking, but it is absolutely everywhere. The shirt will continue to be a button down, but feel free to experiment with unique materials, patterns, and textures…this is the time to! A lovely washed-cotton version from NN.07 (on Mr. Porter for $135) is all that you need for a warm, spring day.
With your shoes, do not expect many changes. Brogues, cap-toe oxfords, and monk straps will continue to run the streets. Skip the black though, and try different colors. Also, become friendly with a good sultry suede. Canvas and leather oxfords from Milanese brand Marsell (on Mr. Porter for $700) are the chaussures you'll be finding on that stylish bloke's feet. As far as bags are concerned, expect lighter shades of leather, especially strong totes and weekenders, which will be perfect to take you around the world and back. A lovely leather tote by WANT Les Essentiels de la Vie (at Neiman Marcus for $795)  is the perfect completion to your look. Also, feel free to break out a hat, especially a fedora like Alexander McQueen's (at Barneys New York for $430). This very chic accessory will easily and successfully enhance an outfit.
All-in-all, expect a lighter spring than usual