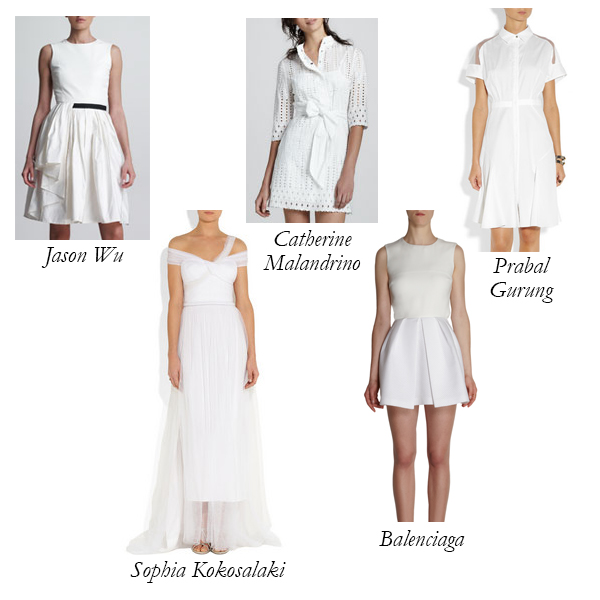 In my city, there is a rule that every house must be painted white. They literally have a color standard called "approved white," so in honor of the colorless color, here are my approved whites for the season. Just remember not to pick pieces that are too flowing. Tailoring is key when it comes to white. Otherwise you'll end up looking like a fluffy cloud!
Jason Wu Leather & Silk Dress: This one is called optic white, so you know it's not messing around. The fitted leather bodice and draped taffeta skirt give you the perfect proportions of structure and flounce down to the very last stitch. At Neiman Marcus for $3,395.
Sophia Kokosalaki Metis Tulle-Covered Silk Gown: Your inner goddess will shine in this Grecian-inspired gown. It may be wedding white, but you don't have to save it for your big day (wearing this only once would be a crime). Pair the dress with some color and you'll have an ideal evening look. On NET-A-PORTER for $3,510.
Catherine Malandrino Eyelet Shirtwaist Dress: I couldn't very well talk about white without including an eyelet number, but sometimes they feel like prairie dresses rather than the city chic styles we desire. Catherine Maladrino's eyelets avoid the issue with an oversized look that gives off graphic vibes. At Neiman Marcus for $445.
Balenciaga Full Skirt Dress: The vented skirt on this Balenciaga contrasts strikingly up against the cotton-blend bodice, for a mix of touchable textures. Pre-order at Barneys New York for $1,385.
Prabal Gurung Cotton-Poplin & Tulle Dress: If you saw this dress hanging on the rack, you might not notice its special features. Sheer tulle inserts at the shoulders show off just the right amount of skin. Exclusively on NET-A-PORTER for $1,495.