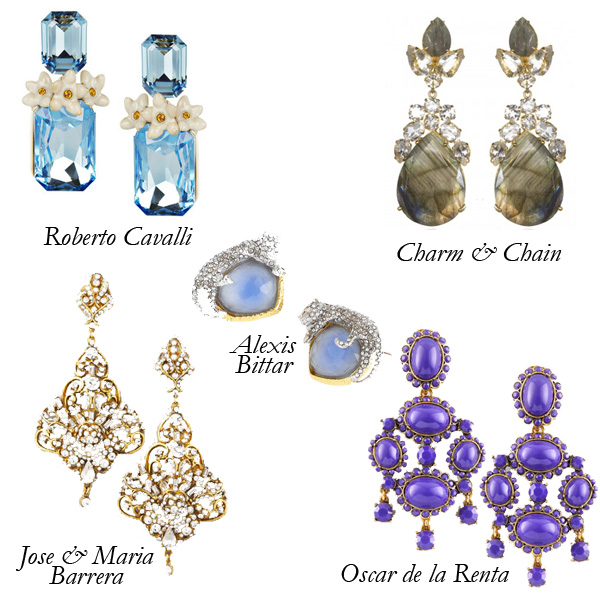 I realize that not all Snobs have pierced ears. And even though mine are, I can't wear regular earrings because my skin there is too sensitive (even platinum irritates it!). So I thought I would pull together a list of the best clip-ons. There are way more luxe options than you would expect, but I stuck to mostly dangling earrings because they are harder to find.
Roberto Cavalli Swarovski Crystal Clip Earrings: With the white flowers and ocean blue Swarovskis, this pair is fit for a night of dancing and drinking at a tropical luau. On NET-A-PORTER for $635.
Jose & Maria Barrera Gold & Crystal Chandelier Earrings: Ornate chandelier earrings are a classic pairing for a formal gown, and in simple gold and crystal, you can wear them over and over, no matter what the dress looks like. At Neiman Marcus for $490.
Oscar de la Renta Chabochon Drop Clip Earrings: If you really want to expand your clip-on collection, Oscar is your man. I could have compiled a huge list of his pieces alone. At Neiman Marcus for $450.
Alexis Bittar Elements Siyabona Panther Clip Earrings: No, these aren't danglers, but I just had to include them. I loved the ring version, but the cerulean on these is even more gorgeous than the ring's pyrite. At Nordstrom for $295.
Bounkit Labrodorite & White Topaz Teardrop Earrings: Bounkit makes a lot of its pieces to order, so you can choose to have these made as clip-ons or posts. On Charm & Chain for $505.