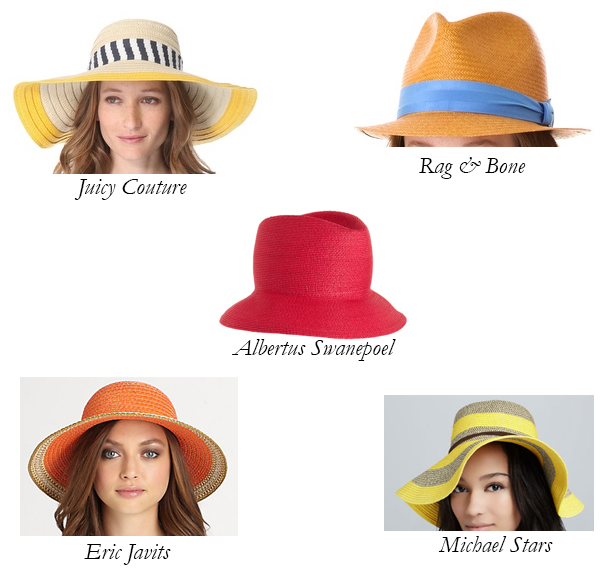 I realize that during the summer months, the real reason to wear a hat is for protection from the sun, and yes, that's important, but a Hat Snob like myself wants much more than that. Plain straw styles just don't cut it! Not when there are so many colorful alternatives. With accessories, you can easily be playful and bright without going overboard, so check out this list of the best (and most versatile) summer hats:
Juicy Couture Wide Brim Straw Sunhat: Juicy Couture's topper may be designed to keep the rays at bay, but its straw has a sunny disposition! The cute nautical band just adds to the seafaring fun. On Shopbop for $58.
Rag & Bone Madison Fedora: Rag & Bone knows that all you need is a dash of color to make a splash in the summer, and this one (whether you choose the ocean blue or green) is still neutral enough for everyday pairings. On Shopbop for $175.
Michael Stars Deep Shade Hat: If you don't like structure, go with a floppy hat like this Michael Stars. Its crisp lemon yellow stripes keep it from looking too slouchy. At Neiman Marcus for $58.
Eric Javits Straw Floppy Hat: This hat is also considered floppy, but you wouldn't know it by looking. It's the perfect accessory to pack in your beach bag – unfussy, yet fabulous. At Saks Fifth Avenue for $198.
Albertus Swanepoel Heather Fedora: The spare shape of a fedora allows this poppy red color to be surprisingly versatile, and to well, pop! At Barneys New York for $395.