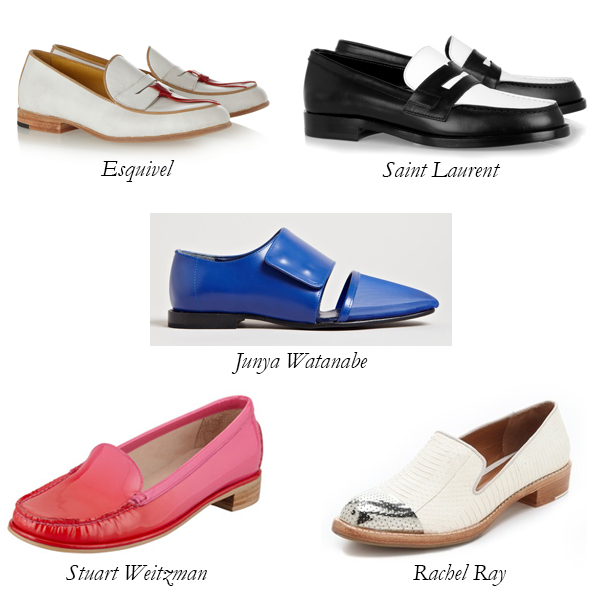 Other than my Tod's driving moccasins, I haven't worn loafers since the 90's (when I also sported Richard Tyler pant suits to work!). I could get back into them, though, if there was something unique setting them apart from the typical prep-school style we've come to associate with the shoe. Cropped pants would do the trick, but while we're going outside the box, why not juxtapose it with a flared mini skirt? As long as you keep it from getting too schoolgirl cutesy, the look should get A's across the board.
Esquivel Leather Penny Loafers: White loafers can definitely veer into old-time nurse/grandmother territory, but with a flick of color decorating the front (the shoes come with three different interchangeable ribbons) and the right style pairings, you'll be nodding to an earlier time rather than nodding off. On NET-A-PORTER for $750.
Saint Laurent Two-Tone Leather Penny Loafers: There's nothing exceptionally unique about this pair, but it's exactly like the one I used to wear all the time and sentimentality always outweighs reason. On NET-A-PORTER for $695.
Stuart Weitzman Mach2 Ombre Patent-Leather Loafer: For all the women who avoid menswear in lieu of more feminine pieces, you're welcome. Pink ombre? I'm in. At Bergdorf Goodman for $325.
Rachel Roy Lane Snake Menswear Flats: With a perforated metal cap toe, these white snake loafers are perfect for the days when you feel like dressing like a mob boss. On Shopbop for $275.
Junya Watanabe Women's Mesh Toe Shoes: I said I wanted a loafer that wasn't like all the others, and Junya Watanabe is known for being about as different as it gets. A mesh toe and d'orsay style brings the prepster basic into edgier blue waters. On LN-CC for $805.