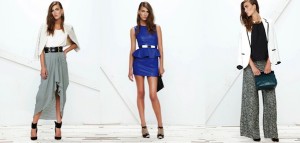 Couture Snob reports that Geri Hirsch of Because Im Addicted has teamed up with Lovers + Friends for a capsule collection that will make all the California girls ooh and ahh.
SHEfinds tells us what we'll be wearing to the beach this summer – Roxy's new DVF-printed bikinis!
Shoe Snob is ready for summer with sandals just as shiny and bright as the sun itself.
Sometimes the best things come in strange packages. WWW recommends a few oddly-shaped curlers that will fulfill your mane desires, be they full-bodied va va voom waves or zig-zagging kinks.
The snow may be disappearing, but Bag Snob says snow white bags are just starting to enter the scene.
Learn how to create a fragrance from The Cut's interview with the one and only Hermès perfumer (how do I get that job??).
Tot Snob gives us the low-down on snacking on the go.
Check out who won Fashionista's first-ever Fashion Oscars.
Beauty Snob explains how the fountain of youth can actually be found in the past.
Vogue's review (http://www.vogue.com/fashion-week/fall-2013-rtw/balenciaga/review/) is in and the conclusion for Alexander Wang's Balenciaga collection? A promising start!