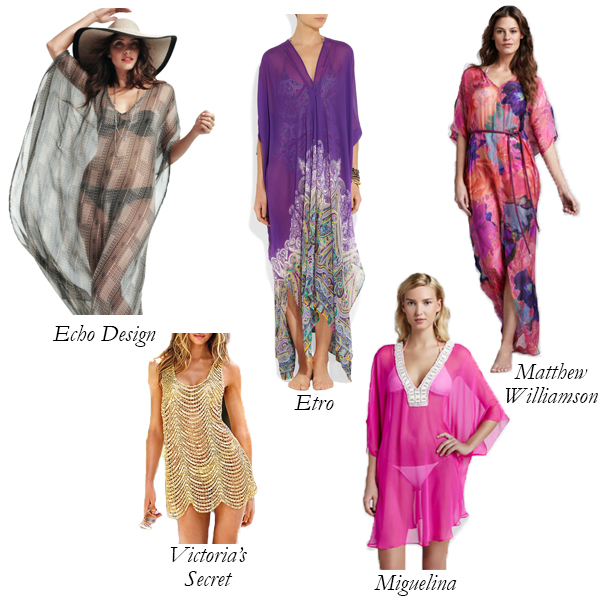 When spending most of the day out in the sun, it's nice to have a light kaftan that'll keep the rays at bay without overheating you. Sure, sunglasses, a wide-brimmed hat, and SPF are helpful allies, but when it comes to full-body protection, nothing beats covering up. Then again, maybe you want to show off that hot body you've been hitting the gym for all winter! Whether for fashion or function, here are the best styles to score for the shore:
Echo Design Paradiso Long Caftan: Looking at this kaftan makes me want to book an impromptu trip to South Beach! The drama of the flowing silhouette is sheer perfection. At Echo Design for $78.
Etro Printed Silk Maxi Kaftan: If Dynasty had debuted in 2013, this is what the glammed-up ladies would've donned for a beach vaca. The billowing beauty is perfect for peacocking along the side of a pool. On NET-A-PORTER for $920.
Matthew Williamson Rope-Waist Printed Maxi Cover-Up: After a day of lounging around in a barely there bikini, you'll be craving heaps of color and fabric. At Neiman Marcus for $950.
Victoria's Secret Very Sexy Sequin Cover-Up: This is on the pricier end for Victoria's Secret, but considering you'll look like you're dripping in gold, it would be money well-spent. At Victoria's Secret for $148.50.
Miguelina Beverly Sheer Chiffon Coverup: The shocking mix of a bright hue with a sheer fabric is just what a beach babe like you needs! It doesn't hurt that there's a trendy embellished collar involved. At Neiman Marcus for $280.