Store your slouchy hobo bags for now. The structure of a briefcase is a must this season, whether you work in an office or not. I prefer mine mini (there are fewer documents to carry when your work is online!), though for the orange Hèrmes Kelly (e-mail here to inquire) briefcase, I'm sure you can find more things to carry. Whether you're raising capital for a hedge fund or raising children, a briefcase bag is a must this season. But just like bag snobs, these bags come in all different shapes and sizes. See what works for you – do you like old school styles à la Mad Men or are you a thoroughly modern Mille??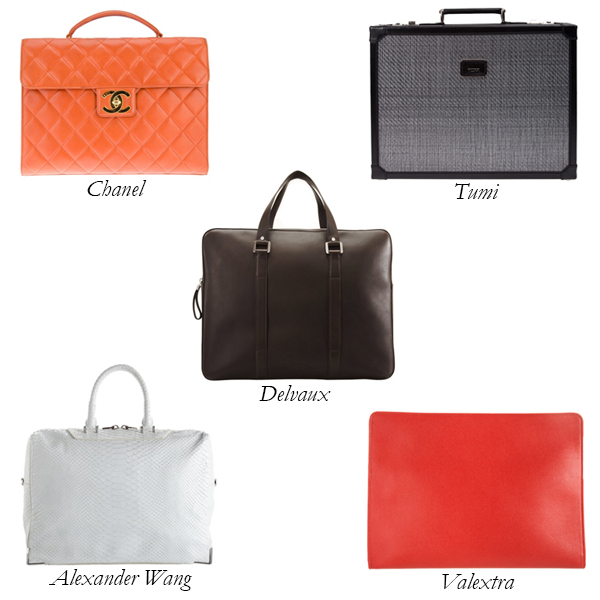 Chanel Vintage Quilted Briefcase: With this, you get Chanel's classic aesthetic mixed with juicy orange flavor! Coco was no shrinking daisy, after all. On Farfetch for $3,136.12.
Delvaux Newspaper: This is probably the most traditional of the bunch. The external straps can stretch out to hold a newspaper or glossy. In a world where technology is taking over, it's nice that Delvaux is giving us a chance to go back to the basics. At Barneys New York for $$2,500.
Tumi Briefcase: Tumi's always thinking about function. Need to lock up some important documents? Even if you don't, it's fun to pretend! On Farfetch for $2,734.08.
Alexander Wang Prisma Skeletal Briefcase: The signature Prisma hardware sharpens the edges of this otherwise relatively unstructured, python-embossed bag. At Barneys New York for $1,195.
Valextra Zip Briefcase: At the end of the day, briefcases are meant to carry briefs, so this sleek, orange pouch is keeping it classic. It could hold your iPad, too, though! At Barneys New York for $2,570.
This post is also available in: Chinese (Simplified) Chinese (Traditional)