Not since the lavish days of Dynasty have we seen so much unapologetically bold gold. This heavy hardware will have everyone lunging at your jugular, but never fear – they just want an up-close look at the armory's worth of metal hanging from your neck. While Lanvin's Oracle collar (on NET-A-PORTER for $1,242) will give you the strength of pure metal, Vita Fede's subtler (yet no less intimidating) black leather and gold match (on Vita Fede for $625) will happily arm you with just as much style.
Saint Laurent Three Strand Collar Necklace: In history and spirituality, there's always power in sets of three, so give yourself a little extra strength with Saint Laurent's three-strand collar. On NET-A-PORTER for $995.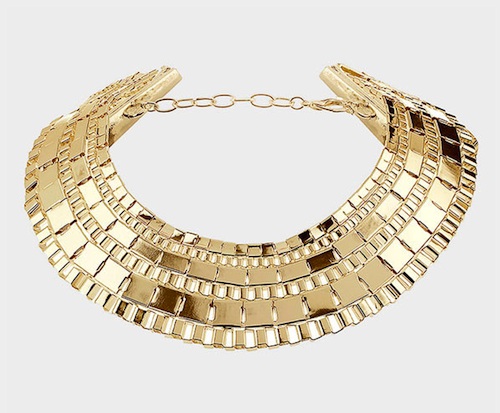 Topshop Chunky Box Collar Necklace: This chunky linked choker looks like it belongs on a princess from an ancient age. In spite of its cool price tag, you get double the hardware here. At Nordstrom for $70.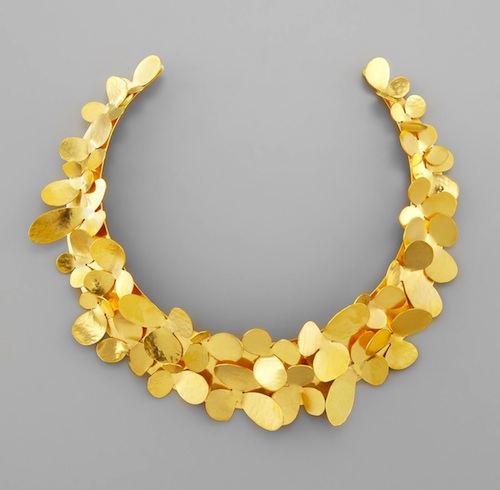 Herve Van der Straeten Gold Petal Collar Necklace: For the distinguished look of laurels, throw on this brightly petalled collar. It'll make you wish your garden were gold, too! At Bergdorf Goodman for $1,480.
Charles Albert Woven Collar: Charles Albert has the Midas touch, turning a braided necklace into gold. It will bend to your desired size but never break. On Shopbop for $75.
Aurélie Bidermann Gold Surfing Mimosa Collar: A mimosa is not only a cocktail at brunch, it's an herb! But no matter how you look at it, Aurélie's mimosa collar would be the perfect brunch accessory. At Barneys New York for $1,775.