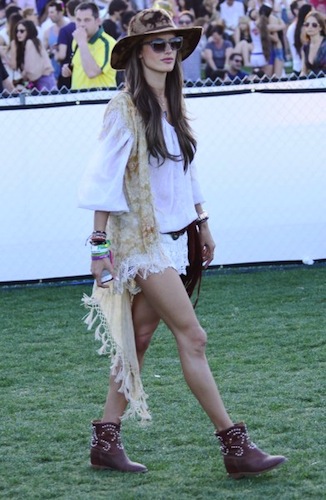 Coachella may be over, but the photos of festival-going celebs will live on forever. Whether that's a good thing or a bad thing is up to you! Vote for your favorite in the poll at the end of the post. One thing is certain – the stars went dressed down, which is exactly what you should do for a day in the desert. Walking around in a crowded meadow in stilettos? That's the ticket to a day of hell, and considering what you had to pay to attend Coachella, you want it to be the time of your life. Alessandra Ambrosio went in Isabel Marant's studded Caleen boots (at Barneys New York for $890). The cowboy-inspired style is perfect for taking a beating while still looking good, so high marks to the model! Check out some other looks after the jump.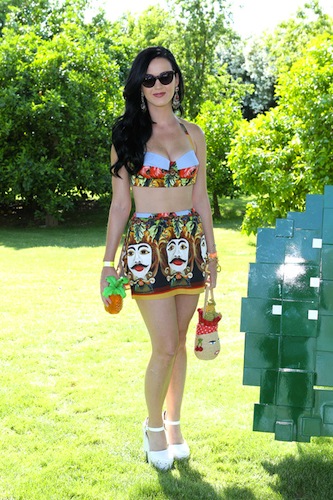 Katy Perry's Dolce & Gabbana outfit and vintage Lulu Guinness bag are pretty outlandish, but then again, this is the same California Gurl who wore a bra that shot whipped cream – short of Lady Gaga, anything goes for this pop star. She at least knew to go easy with the shoes, so these white wedges were just right.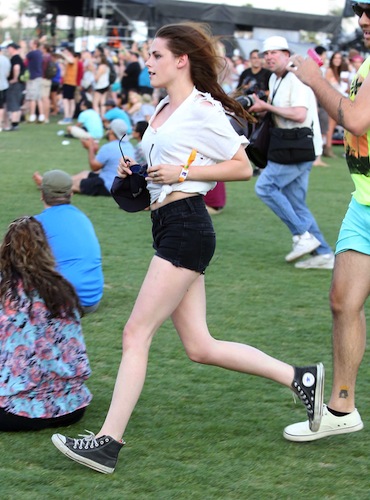 Kristen Stewart has been known to wear Converse (on Zappos for $55) with ball gowns, so does this really surprise anyone?
Ouch. I appreciate that Vanessa Hudgens is trying to get in the hippie festival mood, but the '60s are over. The mix of the crazy curly hair, a rosette headband, and a barely there white playsuit are just too much. One thing that is right? Those brown gladiator sandals.
Rita Ora is the face of Superga this spring, so it makes sense to see her repping the brand. Honestly, I'd wear Supergas (on Shopbop for $65) to Coachella even if they weren't paying me! They're classic comfort.