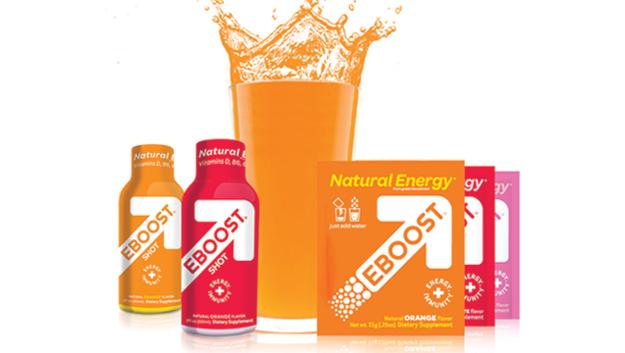 A bunch of the trainers and gym go-ers at my gym drink EBOOST pre-workout for extra energy. I don't ever crave these kinds of energy drinks, but given how health conscious all the people I see drinking EBOOST are I was intrigued. The line also has everyone from Oprah to Heidi Klum to Jillian Michaels along with a long line of fitness pros backing it.
The energy drinks come in powder or shot form and blend vitamins, minerals, and super-nutrients including Vitamins C, D, B6, B12, as well as 5-HTP, Resveratrol, Green Tea, and Green Coffee. All you do is add water to the powder and it gives you an effervescent drink (if you drink it over ice the effervescence goes away) or down the shot. I tried all the flavors and both types of EBOOST. Wasn't a big fan of the shots, but loved no LOVED the powders. I can't believe these only have 10 calories…they taste like 150-plus because they're so flavorful but not in a gross artificial way.
I don't typically drink anything aside from water, tea, and coffee, but I'm hooked on these now…nespresso, what!? I could really tell a difference in my energy level after drinking EBOOST 10minutes before my workout. It also perked me up and made me in a better mood. By far my favorite flavor is Pink Lemonade. Unlike Red Bull there are no sketchy ingredients, the calories are negligible, I love that the line is specifically designed to enhance physical performance, and there is no come down/crash – it's totally clean energy. Plus unlike pretty much all of their competitors EBOOST isn't formulated with high fructose corn sugar and you won't find yourself needing more than one to see an effect.
Trust me…drink this 10 minutes before your next workout and then thank me for helping you burn an extra 50-100 calories:)