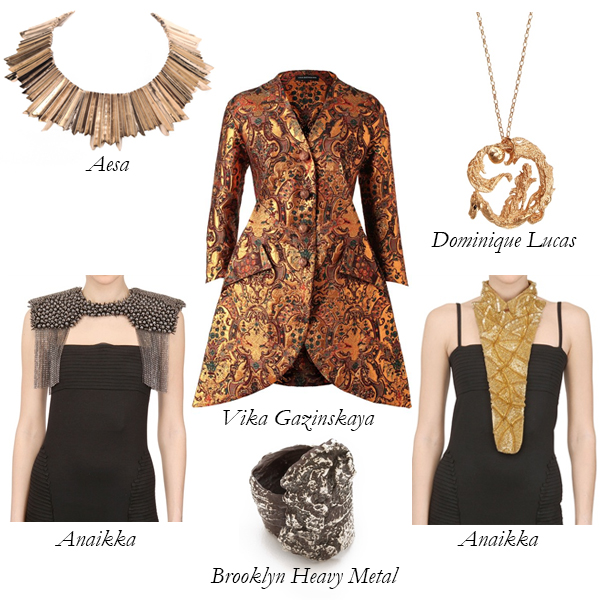 Game of Thrones is the best TV show ever produced. It's crazy to think that a production with such a grand, massive scale is made just for the silver screen. Even with that, I can't get enough. I've had to start reading the books to get my fix. And it will definitely take a while to get through all of them – their size is as epic as the story (thank god I have a Kindle – my arms would get so tired holding the books!).
Vika Gazinskaya Tailored Wool-Silk Metallic Brocade Jacket: I'm in awe every time I see a new costume or set. Everything is made in-house in Belfast, some pieces even woven specially for the show (costume designer Michele Clapton won an Emmy for the work!). Helmut Lang's Fall 2012 collection was inspired by the show, but this Vika jacket makes you wonder if hers wasn't, as well. At Browns for $1,459 (from $3,654).
Aesa Victorious Collar: I wish they would sell the jewelry designed for the show. They would make so much money! In the meantime, designers like Aesa are capitalizing on our hunger for bold collars with this hand carved beauty. On Valery Demure for $1,502.
Brooklyn Heavy Metal Bark Tower Ring: The world of Game of Thrones is as based in nature as it is in fantasy, so you'd easily find something like this bark-textured ring in Westeros. On Shopbop for $275.
Anaikka Gold Plated Beads Necklace: Calling this a "necklace" is really an injustice to the designer. Even "statement necklace" would be insufficient. It's a full-on body jewel fit for a royal. On Luisa via Roma for $863.
Anaikka Dark Metal Beads Shoulder Body Jewel: Not that she deserves something so nice, but can't you just see evil Queen Cersei in this gunmetal-plated armor? On Luisa via Roma for $1,293.
Dominique Lucas Dreamy Necklace: The circular design seems like something you'd see on the cover of one of George R.R. Martin's books. Daenerys could wear it in honor of her dragons. On Luisa via Roma for $1,064.