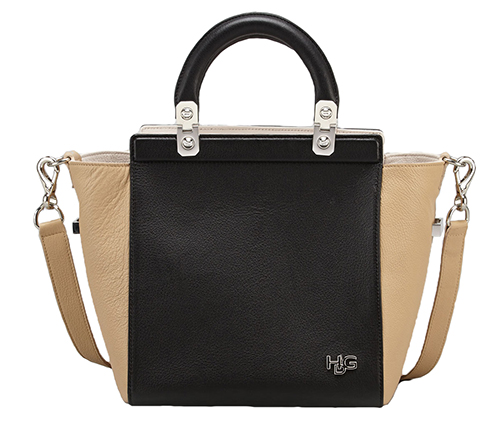 For all the jaw-dropping amazingness currently coming out of the "House de Givenchy," this is a disappointing tribute. I appreciate Riccardo Tisci's way with heavy-metal hardware (as well as his unflinching love for it), but other than that industrial touch at the handles, this bag misses the beat. It fails to exude the edgy character and iconic feel I love about the brand.
Something's missing. Where is that brilliantly twisted shape that comes with the bowler-inspired Antigona (loving the calf-hair addition)? Or the details on par with the star-embellished minaudiere, adornments worthy of going on display in a museum? Instead, we have not-so-surprising colorblocking, a flared gusset (the likes of which are a dime a dozen), and a logo that messes with our concept of Givenchy, rather than enhances it. Simply uninspired, I'm just going to say it: that HDG logo is just bad. It totally degrades the brand for me.
Available for pre-order at Bergdorf Goodman for $2,595 (expect delivery by October 7th).