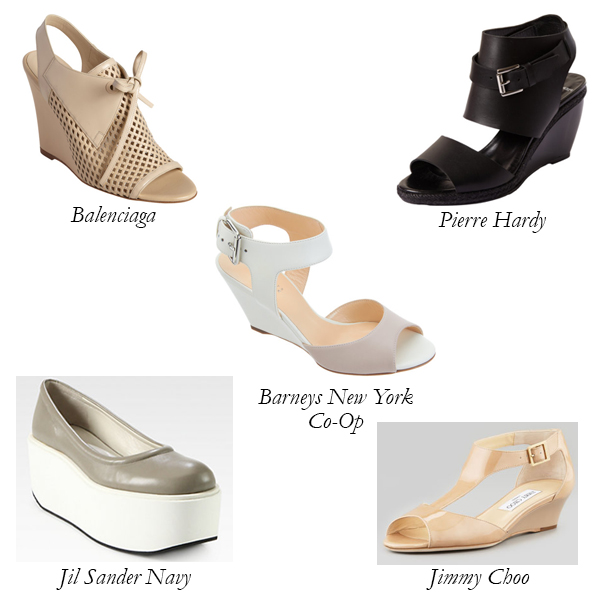 While I'm excited for the shorter stacked heel movement, these hideous creations seriously need to be outlawed. Comfort plus style is the right equation, but comfort minus style just doesn't factor out. If you're looking for granny shoes (and you should really only be doing this if you are, in fact, a granny), then check out Donald Pliner or Taryn Rose. Don't condone this high-priced madness. The one upside? My mom has never been so trendy.
Balenciaga Perforated Glove Slingback Wedge: Not even summery perforation can save these soles. This is truly hurting Balenciaga's image in my eyes. Exclusively at Barneys New York for $835.
Jimmy Choo Treat Patent T-Strap Wedge Sandal: Unless you keep a half-used tissue in your pocket and have a condo in Florida, I would pass. If you want these, hurry up and buy them now before the AARP gets wind of them and they're all gone. At Neiman Marcus for $675.
Barneys New York Co-op Two-Piece Wedge Sandal: Barneys private label does a bang-up job of picking up trends, which is why this is so disturbing. At Barneys New York for $425.
Jil Sander Navy Leather Platform Pumps: These aren't available anymore – let's hope they were all sent back to where they came from. At Saks Fifth Avenue.
Pierre Hardy Two-Piece Wedge Espadrille: Pierre Hardy has been getting complaints about their painful soles, so I guess they're overcompensating now. Hey, at least the shoes are black. At Barneys New York for $725.