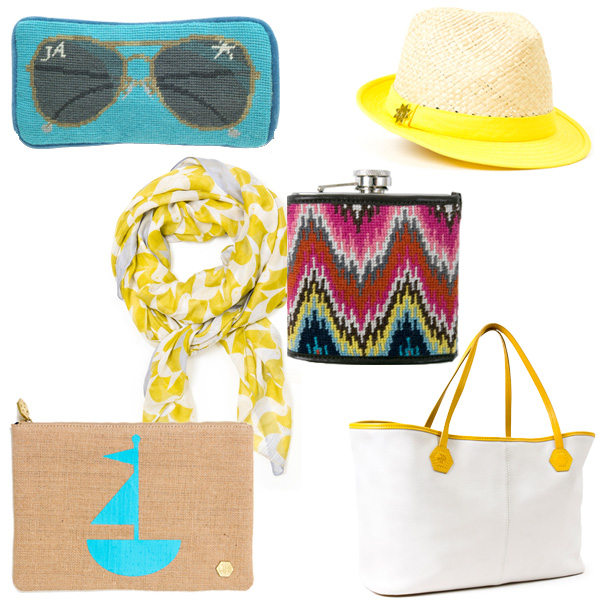 Whether it's a weekend trip to the shore or a full-on tropical getaway, I hope you have some beachy relaxation coming your way soon! But even perfectly planned vacations can be made tedious if you lack the proper essentials. So here's a travel guide's worth of cheerful, Frugal Snob accessories from Jonathan Adler:
Mustard Contrast Brim Fedora ($88): A wide-brimmed hat would keep the sun completely out, but when you're sightseeing, you need to be able to see! This cute yellow canvas brim will block out most rays while still ensuring you have the best view.
White Duchess Medium East/West Tote ($298): Always wanted a white bag, but have been worried about staining it?? Pebbled leather is easy to clean, so go ahead and invest (if you can even call it that at this price!) in this tote.
Sailboat Jute Pouch ($68): At the same time, you don't want to be carrying around a big bag all throughout your trip. Pouches can be your best friends, storing cash, room keys, sunblock, lip gloss, etc.
Avocado Birds Square Scarf ($118): You always pack shorts and warm weather clothes for the tropics, but don't forget about the chilly plane ride and breezy beach nights! Layering on a cute scarf can make all the difference.
Aviator Sunglass Case ($42): This tongue-in-cheek case won't protect your sunglasses from getting crushed, but it will prevent scratching. Besides, it's better than toting around the gigantic case they originally came in (why are glasses cases always so big??).
Multi Worth Avenue Needlepoint Flask ($98): It's important to stay hydrated! Now, what you decide to hydrate with is at your discretion.