Come summer, our hems aren't the only things getting higher and lighter – our hair does, too! And celebs are no exception. For Jennifer Lawrence's first red carpet appearance in months, she debuted a fresh, wavy cut. The Oscar winner says it's the shortest her hair has ever been, but it seems perfectly fitting for a star as laid-back as JLa. With the rich honey hue, she's ready for sunny months ahead. Are you planning on changing your locks for the season?
Michelle Williams recently said she was ready to let her hair grow out, so this edgy trim is a surprise. Maybe she wanted to experiment with one more style before committing years to the re-growth process. Either way, she looked fabulous at the Tiffany & Co. Blue Book Ball.
Lady Gaga was not born this way. Her hair must be fried by now. It's fun to try different styles, though, and while this short bleach blonde cut is hard on her roots, it looks pretty good on her (the makeup is another story). Just remember if you insist on going platinum, use extra moisturizing hair care like Agadir Argan Oil's shampoo and conditioner.
Sophia Vergara is a natural blonde, so it's nice to see her go back to her roots. But I have to admit, the casting directors know what they're doing – it just feels right to see fiery Gloria with raven tresses! I'm sure that gets old for Sophia, though, so here's hoping she enjoys her sun-kissed summer break.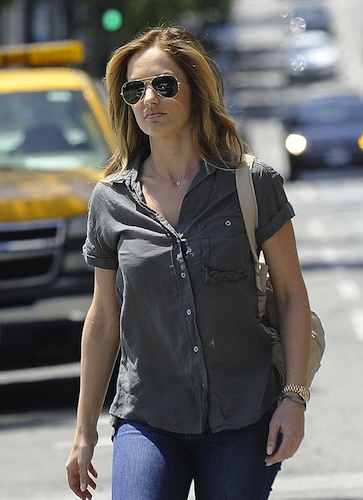 Minka Kelly is another famously sexy brunette gone Goldilocks for summer. Her new honey 'do is deliciously sweet but begs the question – do blondes really have more fun?