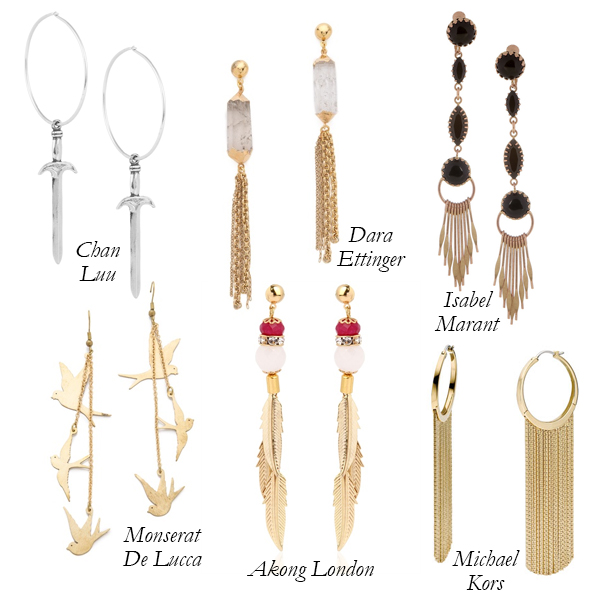 We're letting it all hang low this summer. Earrings, that is (everything else has to be up, so stop flaking out on spin class – okay, I'm just talking to myself now)! With a maxi dress and simple flats, these casual drops are just the things. I don't mean ornate chandeliers. Long earrings are fun and flirty, but not when they're weighing down your lobes! These sleek selections will give you the look without the droop.
Chan Luu Silver Dagger and Hoop Earrings: There's no cloak and dagger secrecy about these blade earrings. They're unapologetically upfront and ready for the spotlight. On NET-A-PORTER for $150.
Isabel Marant Swarovski Crystal Clip Earrings: We place dream-catchers above our beds, but what do you think of hanging them from our ears? On NET-A-PORTER for $325.
Dara Ettinger Syd Earrings: Metal-dipped quartz crystals are certainly nice, but why stop there? Dangle some mixed chains to create a metallic fringe that will blow in the breeze. On Shopbop for $150.
Monserat De Lucca Three Dove Earrings: Longer length doesn't have to mean longer price tags. Let your free spirit out with these beautiful bird earrings. On Shopbop for $55.
Michael Kors Hoop Fringe Earrings: No matter how young or old you are, the truth is that it's fun to flip your hair. So imagine how fun these fringed hoops would be! At Neiman Marcus for $125.
Akong London Pink Jade and Quartz Feather Earrings: Feathers are thought to symbolize a person's enlightenment. And while these aren't as light as feathers, they're just as pretty! On Luisa via Roma for $255.