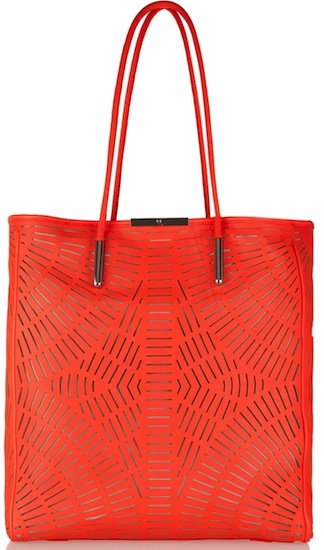 It's only April, but I'm already seeing sand and surf, boardwalks and beyond: I have found my beach bag. When it comes to gear that's casual, eye-catching, and on the side of youthful, McQ Alexander McQueen delivers. Case in point: this rad, bold shopper-tote, more refreshing than a gulp of bubbly Sunkist – and way better for you.
A neon pop of orange that's brighter than an artificially sweetened Popsicle will bring the sun out every day, even if it's not actually shining. And if the hyper-intense tone isn't enough for you, then an intriguing pattern of cutouts is sure to keep your eyes busy. But I don't fear the perforation. It's lined in white twill, so I get to keep my privacy (because who needs to see wet bathing suits and spare flip-flops?), while I have a blast. On Net-a-Porter for $615.
Pair with: I love a good color clash, when the time is right. In bright fuchsia, Valentino's rockstud gladiator sandal makes for an unexpected duo. At Neiman Marcus for $845.
This post is also available in: Chinese (Simplified) Chinese (Traditional)