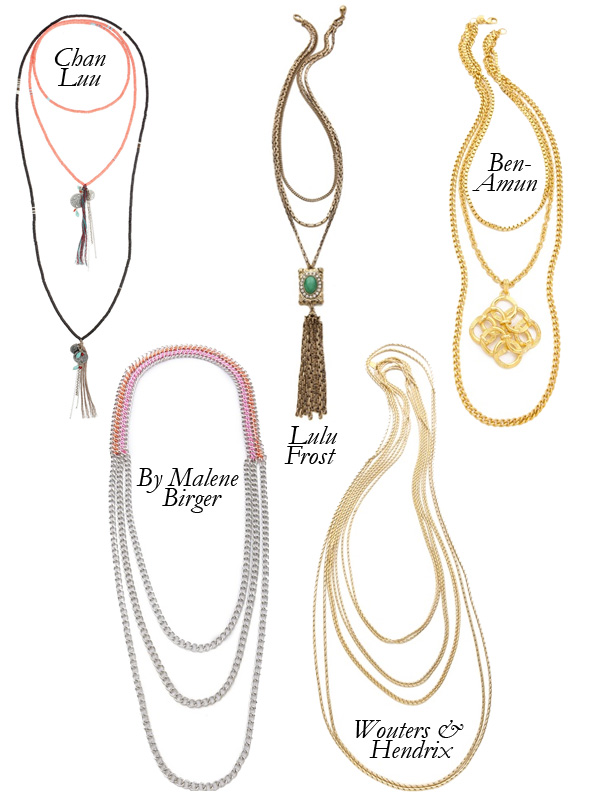 I just bought a multi-layered necklace and absolutely love it! The profusion of chains makes you feel untouchable and abundant à la Marie Antoinette, but you don't need to be in a ball gown to rock the look. I stack bracelets all the time, so this is just the next step in my obsession. What about you? When it comes to jewelry, what's your lucky number? Here are some options with anywhere from one to eight chains that you can mix and match:
Chan Luu Set of Two Beaded Charm Necklaces: This is probably my favorite since you can control the lengths of the necklaces. Double one up or wear both long. On NET-A-PORTER for $85.
Ben-Amun Layered Pendant Necklace: From the mix of chain links to the huge centerpiece, this piece is unapologetically in your face. On Shopbop for $182.
Lulu Frost Immortality Tassel Necklace: A chain fringe tassel cleverly adds length to the third tier of this necklace, while the green stone provides a fresh pop of color. On Shopbop for $288.
Wouters & Hendrix 8 Strand Gold Chain Layered Necklace: This is another fun one – with eight different chains you can create whatever look suits your fancy, be it minimal or plentiful. On Shopbop for $626.
By Malene Birger Lutan Necklace: But maybe plain metal alone is not enough for you. Neon nylon gives this simple silver necklace bold style for summer. On Shopbop for $95.