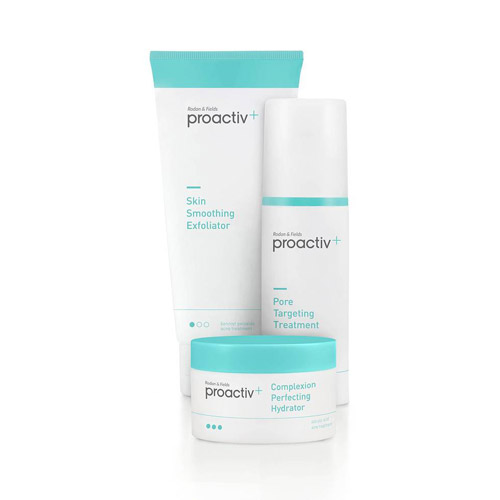 Who hasn't used Proactiv or doesn't know at least know like…10,000…people who have? I never used the original growing up, but so many of my friends did and from what I can remember they all had stellar results (though if memory serves me correctly those results tended to dissipate once they stopped using the regimen). Now the brand everyone – including apparently P. Diddy (!) – loves has launched a new 3-Step System called Proactiv+ along with a Skin Purifying Mask ($29.95 per month) – it's the first major formulation overhaul for the brand, which is still being spearheaded by Drs. Katie Rodan and Kathy Fields.
My skin goes a little crazy between seasons so this is a great time to look into giving my regimen a little bit of a boost. The first step in their new system is the Skin Smoothing Exfoliator (aka a creamy cleanser), which is designed to work as a deep cleanser, a medicated treatment for killing acne-causing bacteria, a glycolic-acid toner, and a mild exfoliator for renewing and smoothing the skin's surface (the key active if 2.5% Benzoyl Peroxide). Next up is the Pore Targeting Treatment, a light-weight, leave-on gel formulated to release benzoyl peroxide directly into the pore…this targeted approach helps kill acne at its source. Lastly the Complexion Perfecting Hydrator is designed to counteract the dryness and irritation that often comes with the actives that treat the condition (there's still salicylic acid in this product however so even though it's fighting dryness, it's also working to treat acne). Lastly the the Skin Purifying Mask can be used intermittently (or as a spot treatment), for an extra punch. It's packed with antioxidants, vitamins, botanicals, a kaolin clay, and sulfur.
If you're looking to treat acne it doesn't get any more comprehensive than this and it's great that given the amount of peroxide, sulfur, and salicylic acid at play here the brand has worked in hydrating ingredients to treat the problem without creating a new one. Plus all products are paraben-free now and formulated with more potent ingredients than the original.