The nail art trend presses on. Its latest victim? A twist on the French manicure. I'm not a fan of French manicures in the first place (although, I'll admit to committing the crime in the late '90s). They look cheap and anything but French and just like fortune cookies, they were invented in America. Nevertheless, I find myself fascinated with these reverse Frenchies. Never one to shy away from the unusual, Dita von Teese has been seen experimenting with the style. It's hardly classic pin-up, but that's Dita's appeal – bringing together the old and new. So I guess at least she's on brand. Check out more manicures after the jump and let me know what you think of the look!
Like everyone else, I love black and whites this spring, but tuxedo nails? They don't look very sophisticated. The style looks best when the half moon is a crescent moon – it's subtler.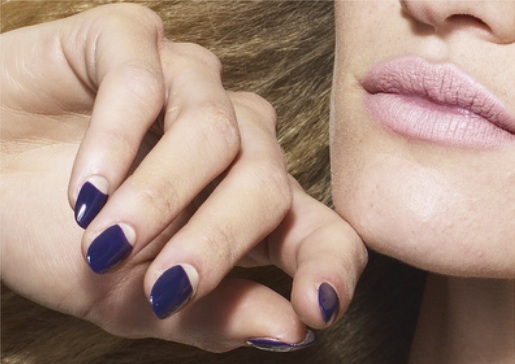 This is probably the least offensive look to me, primarily because it's the least noticeable. Covering nail beds in a clear polish is your safest bet.
Do you think someone came up with this trend when her manicure grew out and she was too lazy to get a new one? Most definitely. Unfortunately, this gross glitter only makes your nails look worse.
If you'd like to try this look, I suggest covering most of your nail with a sticker and then painting over the whole thing with a clear polish. That way it will look as cohesive (and simplistic) as possible. Better yet – have your manicurist do it!