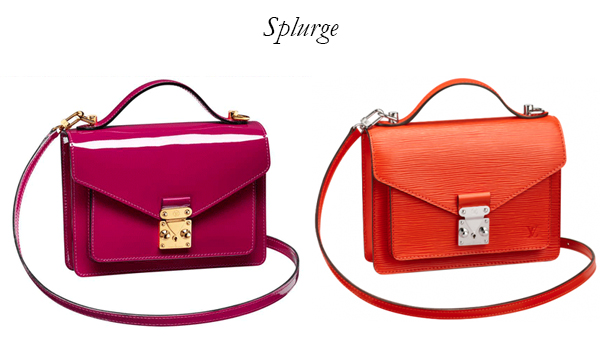 There are coincidences, and then there are bags that are simply too alike not to point out. Was Loeffler Randall's Rider bag inspired by Louis Vuitton's Monceau? A resounding yes! There are plenty of bags out there in the mini-briefcase style, but Loeffler Randall didn't even try to make theirs vaguely different. This is a dead ringer, straight down to the ultra-symmetrical push-lock hardware.
If they were aiming for a case of mistaken identity, then mission accomplished. I have to say, Loeffler Randall did a really good job of knocking off Louis Vuitton. The leathers are different, but it's the exact same bag. And sometimes you don't want to splurge big on a trendy little bag, even if it's in quintessential LV finishes like glossy patent ($1,720) and textural Epi leather ($1,550). In solid cobalt or the happy clash of pink and red
, the steal comes in at just $495. Plus, it has hidden bicycle-fastening straps if you feel like getting active. So what do you think: save up for the real deal or reach for the quick fix?
Louis Vuitton Monceau BB, available at Louis Vuitton; Loeffler Randall Rider, available in cobalt at Loeffler Randall and pink/red
on Shopbop.