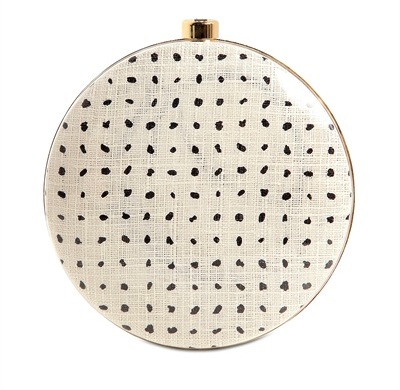 Every summer I allow myself one item that's totally fun, letting me throw caution to the wind. This year, my good-time piece is destined to be Stella McCartney's plexiglass clutch. Round, diminutive, and perfectly quirky, it has the novel appeal of an oversized, old-school-glam compact (without going kitsch). Stella's circular clutch isn't totally dysfunctional, though; with that little, optional strap, the offbeat shape won't present any handling problems. The real issue is fitting in your belongings. It's a give and take: your slim phone can stay, wallet has to go, and a streamlined cardholder is a must. But so what?! This is so adorable, it's the finishing touch to round out your carefree summer wardrobe. Better yet, you know everyone will be eyeing your arm candy as soon as you enter the room, whether it's a late cocktail party or an afternoon garden soiree.
On Luisa via Roma for $1,812.
Pair with: Flecks of black glitter in your pastel polish will bring another dimension to the clutch in your hands. Deborah Lippmann's new spring shade of Rockin' Robin is more delicious than a double scoop of pistachio ice cream.
At Neiman Marcus for $19.