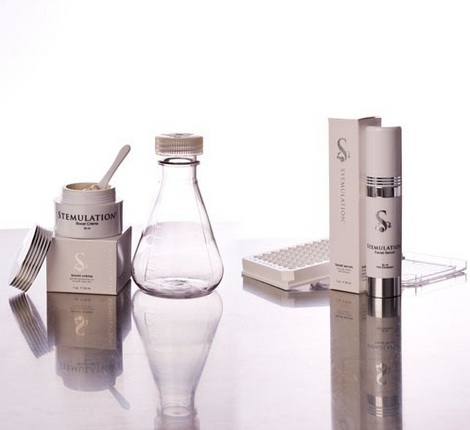 There are a lot of products that are nice – it smells good, feels good and is full of hope that you take on faith. But very few have immediately noticeable effect. This line was recommended by name friend who owns Temptress Cosmetics in El Segundo. She said to use it for one month and see, but you know me, I am trying different products all the time so I couldn't commit to one whole month and kept putting it off. Finally, I decided to put everything aside and devote my face to just this. Supposedly made from human growth stem cells, it is full of ingredients that are engineered to speed up the turnover of cell renewal, it stimulates new cells growth and purges old skin and impurities. All of which cause some unexpected results.
I used the serum followed by the creme nightly. I was warned but still perturbed and shocked by the initial reaction of peeling followed by a major breakout. This, I was told, is because it is expelling all the unhealthy old cells so that the rebirth of new ones can come up. I felt that something was definitely taking place so I didn't give up. The peeling was manageable, I had to exfoliate daily, but the breakouts were driving me nuts. I have not experienced anything this severe since the teenage years. And they weren't just little pimples, they were also those deep cyst-like eruptions. This all cleared up after a week. Then the fun part started.
The expected results are clear complexion, reduction of small lines, firming of the skin and my holy grail of "hope in a jar" – elimination of hyper-pigmentation. The clear complexion came first, after the peeling and the expulsion of whatever was lurking beneath the surface that caused the breakout, my skin looked radiant and so healthy I no longer need to wear foundation. It's like I have a soft filter on my face, it is powdery, silky and even toned. The reduction of lines might come later, I don't have a lot anyway but the texture of my skin has definitely changed. The tightness and firmness is instantly visible. And after a month, I can definitely say my dark spots are getting lighter. They are still there of course but they aren't glaringly up front, they kind of sit in the background now.
I'm not sure if there are even any real stem cells in here and if they actually do anything, these are marketing tactics because "stem cell" is a current hot topic. I almost wish they didn't go the route of this whole claim of having stem cell as an ingredient. I spoke to a friend of mine who does embryonic stem cell research and he said there is no way they can add active stem cells in a jar, this is all bogus. But whatever they do have in here, it works. It might be a bit pricey, but it was totally worth it for me.
Available on Stemulation for $210.