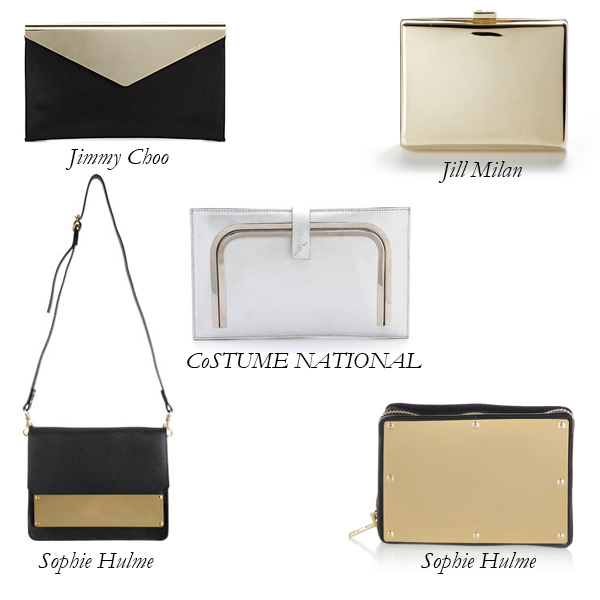 The latest fashion trend shows that heavy metal is not just a style of music. From shoes to collars to bags, metallic accents are sweeping your closets and accessorizing everything back to life. The sleek style is part futuristic chic, part warrior princess, and totally on trend. In a clutch, the extra weight won't wear you down, whereas in a tote, it would be a real workout! So style these mini bags with LBDs or go in the unexpected direction and pair them with colorful florals. Just remember to avoid metal detectors!
Jimmy Choo Shimmer Suede & Metal Clutch: Push the envelope with a gold-tone metal flap. The high-shine is just the right contrast against soft, black suede. At Saks Fifth Avenue for $1,250.
Jill Milan Art Deco Box Clutch: Anne Hathaway, Jennifer Lawrence, and Eva Longoria have all been seen toting this gold-tone stainless steel box clutch, which can ever so conveniently double as a mirror. At Jill Milan for $2,500.
Costume National Silver Clutch with Metal Frame: This Space Age silver clutch is the perfect accessory to update a tired old outfit. On Shopbop for $980.
Sophie Hulme Metal Tab Handbag: If a clutch is not heavy metal enough for you, upgrade to a shoulder bag. It's the perfect way to let everyone else in the boardroom know that you're the one in charge. At Barneys New York for $695.
Sophie Hulme Textured-Leather and Brass Box Clutch: Want to make sure your valuables stay protected? Dress them in armor! The clutch also comes with Sophie's gold-tone ice cream spoon (I guess froyo has gotten really popular…). On NET-A-PORTER for $430.