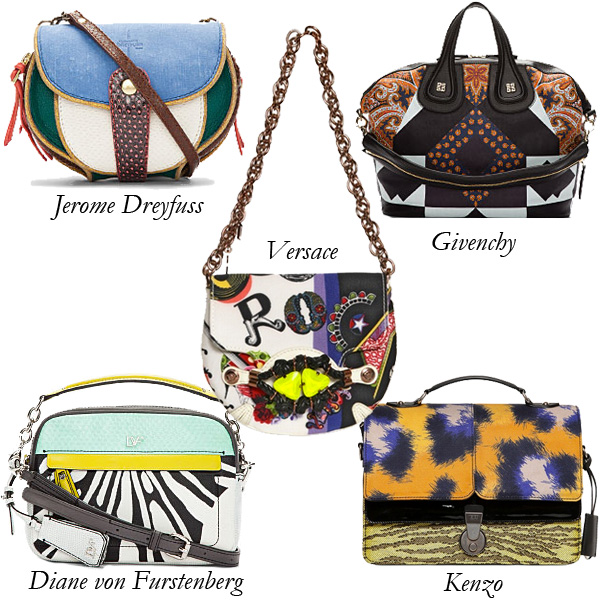 Experiencing jarred senses is the opposite of my earlier complaint that all bags have started looking the same, but obviously, I'd rather be bored than offended. This array of ocular damage-inducing bags don't just hurt your eyes, but your savings, too – and that's really the bigger offense here (discounting Diane von Furstenberg's, which is strictly a fashion crime). What's with the impetus to cram a closet's worth of prints and materials on just one bag? Even ones I love, like the Givenchy Nightingale, have managed to amass so much shit on them, there is no place for my eyes to rest. Look on, if you dare:
1. Jérôme Dreyfuss Mini Blue Suede & Snakeskin Momo Disco Bag: Jérôme is notorious for a haywire hodgepodge of skins, fabrics, and colors. Once in awhile, it works. This is not one of those cases.
On Ssense for $650.
2. Diane von Furstenberg Mint Snakeskin and Printed Leather Milo Shoulder Bag: Diane was likely going for Palm Springs in the eighties with this concoction of lemon, mint, and zebra – and that's the problem.
On Ssense for $295.
3. Givenchy Black Colorblock and Paisley Leather Nightingale Bag: Court jester or quilt-happy grandmother: now you don't have to decide between the two! This eyesore of a print packs both in.
On Ssense for $2,810.
4. Kenzo Le Dix-Huit Tejus Leather and Cotton Bag: Kenzo's gotten a lot of attention for their fun way with leopard this season, but with all this other nonsense going on, this will get you the bad kind of attention.
On Luisa via Roma for $1,379.
5. Versace Rock Print Grosgrain and Nappa Leather Bag: Oh, Versace. You never cease to stupefy me with your insistence on excess. This is rock 'n' roll and ugly all over.
On Luisa via Roma for $1,155.