Spectator shoes have never looked so fresh…or tall! With The Great Gatsby opening in theaters soon, I'm craving 1920's trends, and spectators were all the rage back then. But leave your old school style brogues at home. Shoes like these lucite Lanvins (on NET-A-PORTER for $1,590) are updated for the new millennium with a shiny wedge that would make any Prohibition peddler throw his up-tight morality out the window. See more spectators after the jump!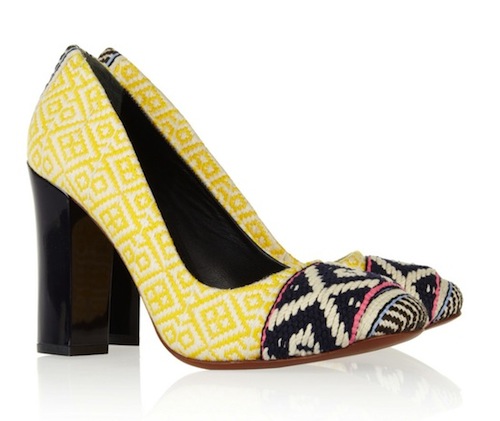 Tory Burch Dara Woven Cotton Pumps: These printed cotton pumps are the furthest from the mark, which is why I love them! Who needs neutral scalloped trim when you have a woven cap toe? On NET-A-PORTER for $325.
Bottega Veneta Fringed Spectator Platform Pump: There was way too much swing dancing going on in the Jazz Era for platforms to be popular, but now we modern wallflowers can indulge our tallest desires! At Barneys New York for $950.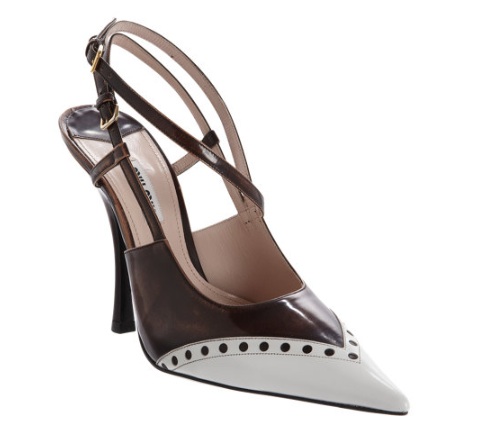 Miu Miu Double Slingback Spectator Pump: The burnished brown leather gives these Miu Mius a vintage feel. Slip these on with anything from a flowy dress to skinny jeans – they'll be the stars no matter what. At Barneys New York for $735.
Pour La Victoire Cap Toe Oxford Spectator Pumps: Classic spectators are black and white, but Technicolor hit the movies a long time ago and so vibrant heels should follow! At Bloomingdale's for $250.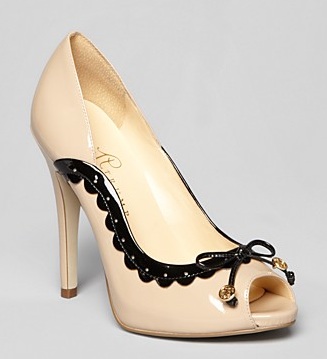 Ivanka Trump Peep Toe Platform Spectator Pump: Ladylike black trim and a sweet bow take the manly spectator and turn it on its sole. At Bloomingdale's for $195.
Charlotte Olympia Dolly Spectator Platform Pump: Charlotte Olympia's interpretation may be simple, but for her, that's unique in itself! With the Dolly's the sizable signature platform, this spectator will make you the spectator, looking around the crowd from high atop your perch. At Neiman Marcus for $895.