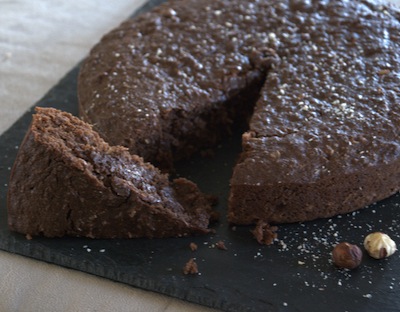 Inevitably this time of year we're bombarded with people telling us things we should do to get a "summer body." It's pretty lame if you ask me and it's completely unrealistic for anyone to go from a diet based heavily on fried and processed foods to a clean one based on fresh produce overnight. There are however plenty of compromises and so I asked a friend of mine, Jacquie Chamberlain, who recently moved to Maine to work for a new restaurant that's connected to a small farm and recreational cooking school, to share one of her recipes that would satify a sweet craving while also nourishing the body.
As you'll see below, the benefits of this cake not only make it a fantastic snack, but also a decadent breakfast as it increases circulation, aids in digestion, and provides a number of plant-based vitamins.
Chocolate-Parsnip Cake with Hazelnuts
2/3 cup + 1 tbsp melted coconut oil, separated
1/2 cup maple syrup
1 bar (50 grams) dark chocolate, around 70%, broken into pieces
2 1/4 cups (225 g) raw, thinly grated parsnips
3 eggs
1 tablespoon vanilla
1 cup spelt flour
1/2 cup + 2 tbsp almond flour, separated
5 tbsp cacao powder
2 tsp baking powder
1/2 tsp cinnamon
1/4 tsp ginger
1/8 tsp nutmeg
pinch of sea salt
heaping 1/3 cup hazelnuts, toasted and chopped
Preheat the oven to 350F. Grease a 9″ cake pan with 1 tablespoon coconut oil and dust with 2 tablespoons almond flour. In a medium saucepan, warm the coconut oil, maple syrup and chocolate over low heat. Stir until chocolate is melted and remove from the heat. Add the grated parsnips. In a separate bowl, whisk the eggs and vanilla together. Add to the parsnip mixture. Sift the spelt flour, baking powder, cacao powder, spices and salt together. Stir in almond flour. Add the chocolate-parsnip mixture to the flour mixture and whisk until just incorporated.Pour batter into the prepared cake pan and bake for 20-25 minutes just until the top cracks. Cool for 15 minutes before serving. Enjoy!
Health Benefits
Parsnips: High in vitamins A, E, C, calcium, iron and potassium, parsnips have been prized for their insoluble fiber and diuretic properties, which ease digestion and detoxify the body.
Cacao: Cacao is a natural stimulant, giving you energy and increasing blood circulation. It's known for its flavonoid antioxidant content, having more than blueberries, red wine or green tea. It's also known to reduce free radicals in your body and lower blood pressure.
Hazelnuts: Only second to almonds, hazelnuts are a great source of calcium and like cacao, they have a high antioxidant level.
Coconut oil: It's one of the only plant sources of lauric acid, which is known to enhance brain function and supports the immune system. Coconut oil is a known antiviral, antibacterial and antifungal and a lower calorie choice of oil. Likewise, the fatty acids that make up coconut oil are medium chain fatty acids that are not stored as fat, but rather used for energy.
Cinnamon: Cinnamon stabilizes your blood sugar and increases your circulation and digestion, decreasing congestion and working with the other ingredients to wake up the body without weighing you down.