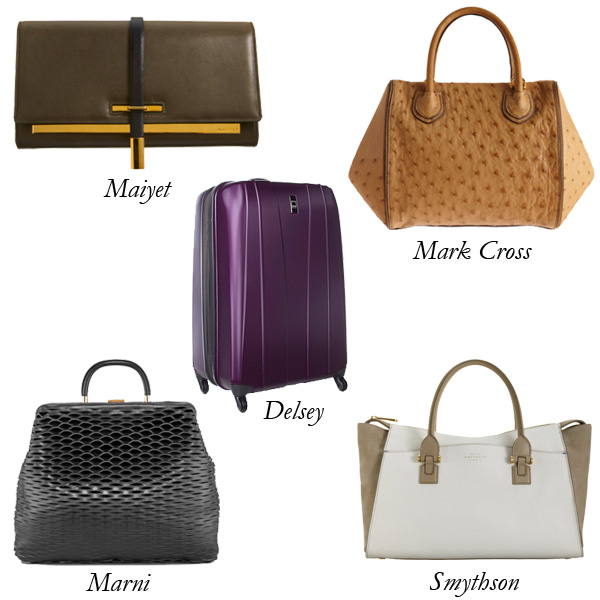 Mom bags – as in suitable for diapers – these are not. These Five Essentials are the bags women want, covet, and deserve for Mother's Day. This isn't a holiday for practical gifts (Mom is practical all year long!). That, to me, is disrespectful. Instead, show your mother how much you love her by showering her with splendor and decadence
Clutch: Maiyet Ceres Clutch
Even if she only has one clutch, this is the one that will take care of all the date nights and girls' night-outs. It's neutral yet striking and cool without being casual.
At Barneys New York for $1,250.
Trendy: Marni Laser-Cut Satchel Bag
At Neiman Marcus for $1,365.
Mom doesn't want silly novelty; she wants to show substance and personality. This wild tote does both, underscoring the "fun" in functional. Plus, orange is hot and so is perforated leather.
Treasure: Mark Cross Ostrich Mini Madison Satchel
A treasure doesn't have to be exotic, per se, but let's not kid ourselves here: a timeless (and logo-free) bag in ostrich is the definition of a treasure.
At Barneys New York for $3,750.
Travel: Delsey Helium Shadow Trolley
Delsey is my most beloved luggage line. I have so many random pieces of luggage, but I am currently purging and replacing them with a full set by Delsey. For hard cases, everyone wants Rimowa, but their cases are much lighter and better-priced. This shade of purple is beautiful and stands out in the sea of black blobs floating around the luggage carousel.
On Zappos for $360.
Tote: Smythson Small Eliot Tote
Okay, I know I said no diaper bags, but this one can obviously hold a couple. However, with Smythson, pragmatism is a bonus. This everyday bag is super-chic and made for a busy lifestyle.
At Barneys New York for $1,995.e